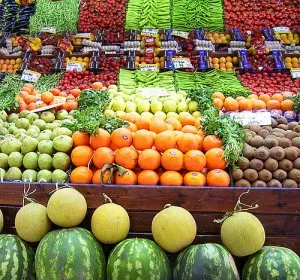 Thanks to muammerokumus for the pic.
Did you hear? Walmart's planning to revamp its line of Great Value food products, pulling unnecessary fat, sugar and salt from the recipes. AND, it's going to push its vendors to do the same. AND, there's more: The company says it'll lower prices on fruit, veggies and whole grain products.
This may not seem like a big deal at first blush, but when you consider the reality that Walmart is now America's favorite grocery store ... well, all that calorie-cutting could make a big difference for your bottom line (pun intended) and a huge difference in how the food industry processes food.
Here's more from The New York Times:
In interviews previewing the announcement, Wal-Mart and White House officials said the company was also pledging to press its major food suppliers, like Kraft, to follow its example. Wal-Mart does not disclose how much of its sales come from its house brand. But Kraft says about 16 percent of its global sales are through Wal-Mart.

In addition, Wal-Mart will work to eliminate any extra cost to customers for healthy foods made with whole grains, said Leslie Dach, Wal-Mart's executive vice president for corporate affairs. By lowering prices on fresh fruits and vegetables, Wal-Mart says it will cut into its own profits but hopes to make up for it in sales volume. "This is not about asking the farmers to accept less for their crops," he said.

The changes will be introduced slowly, over a period of five years, to give the company time to overcome technical hurdles and to give consumers time to adjust to foods' new taste, Mr. Dach said. "It doesn't do you any good to have healthy food if people don't eat it."
Read the entire article, by Sheryl Gay Stolberg, here.
In other news, Charlotte's own Brooklyn Decker talks to Self magazine about how she's "wrecked" her body to stay thin. That interview will be in the magazine's February issue.
Rhiannon "Rhi" Bowman is an independent journalist who contributes snarky commentary on Creative Loafing's CLog blog four days a week in addition to writing for several other local media organizations. To learn more, click the links or follow Rhi on Twitter.