As the brutality of Margaret Thatcher's anti-union repression plays havoc with the lives of North England's miners and their families, it's obvious that a whole population is losing their bearings, their dignity, their livelihoods, and their identity during the harrowing Miners' Strike of 1984. That's the grim backdrop of Billy Elliot, now at Ovens Auditorium through January 30, and Sir Elton John's surprisingly massive music captures the determination, the brotherhood, and the fatalism of the strikers.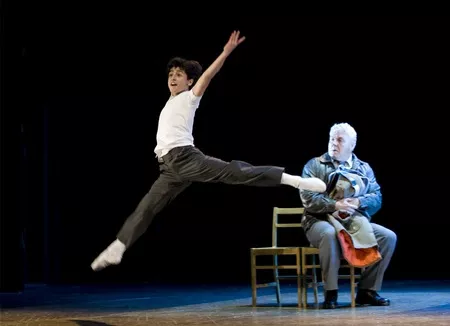 Photo credit: Michael Brosilow
The jubilant songs in Billy Elliot tracing the arc of Billy's development – "Electricity," "Born to Boogie," and the madcap "Expressing Yourself" –shine all the more brightly because they stand in relief against the dark of "The Stars Look Down," the chaos of "Solidarity," the sullen depths of "Once We Were Kings," and the corrosive humor of "Merry Christmas, Maggie Thatcher."
Early on in this most thundering musical, in a Lee Hall book skillfully adapted from his own screenplay, Billy is best defined by what he doesn't want to be. He doesn't want the boxing lessons forced upon him by his gruff, good-hearted dad, and has no burning desire for the live burial of his predetermined mining future. Only by accident does Billy discover ballet when his erstwhile boxing mentor, George, has him pass along the keys to the meeting hall to Mrs. Wilkinson, the next teacher who uses it. At first, Billy doesn't even know what he's doing as Wilkinson commands him to ape the rest of her all-girls class, but you can bet the chain-smoking ballet mistress demands her weekly 50p for the service.
Surely, the change inside Billy begins when he hears that he's good, that he has potential, that he might be admitted to the Royal Ballet School, though Wilkinson is less than effusive in her encouragement. No, she's a bit crusty – endowed with a toughness that comes in quite handy when she faces down the opposition from Dad and Billy's older brother, Tony.
For Billy, "losing who you are" isn't getting crushed by Thatcher's ruthless tactics. It's forgetting all the preset coordinates of his life in the act – in the flight – of dancing, and feeling that he's free. We don't get to hear this until after Billy is convinced that he's blown his audition by hitting a fellow candidate for admission. He and his dad have turned to leave when an unseen examiner asks: "Tell us: how does dancing make you feel?"
The second time you see Billy Elliot, as I did last Thursday after catching it on Broadway last July, that question will likely send chills up your spine or choke you up. For you will already know the moment has arrived for Billy's "Electricity." You are on the verge of seeing something amazing – an explosive flowering of creativity and identity.
Notice here especially how deftly Stephen Daldry directs. This marvelous scene isn't exclusively about Billy – it's also about Dad, whose amazement and stupefaction exceed our own. Receiving Billy's jacket, yielding the bench to his son for his dance, and finally standing bolt upright – as if Dad has been struck by some electricity himself – there is subtle choreography here from Daldry that is no less affecting than the routine customized for each of five Billys on tour by official choreographer Peter Darling (and associates).
I can confidently declare that Rich Hebert's performance as Dad eclipsed the one I saw on Broadway by original cast member Gregory Jbara. Hebert is there for every performance, and so is Jeff Kready, whom I'd already seen on Broadway as Tony. I've already commented on Kready's work in last week's preview article, but to repeat: buckle your seatbelts, he's a mean one.
Slipping in a day before the designated press night, Sue and I saw Michael Dameski instead of Giuseppe Bausilio as Billy. He wasn't my favorite among the two Billys that I've seen, but Dameski was among the corps of Billys on Broadway when I saw the show, so you can be sure he's no slouch.
Faith Prince isn't quite the frowzy working-class Brit that Kate Hennig gave me on Broadway, but she has spunk aplenty and perfectly calibrates her sternness and tenderness toward Billy – and she's Faith Prince. The tour isn't at all top heavy, though, for the colorful character roles are beautifully done. Patti Perkins charmingly blends wistfulness and comedy in Grandma's showpiece, "We'd Go Dancing," and Patrick Wetzel, a rather seedy-looking flunky as Wilkinson's pianist, Mr. Braithwaite, breaks out sensationally in "Born to Boogie."
Just two actors time-share the role of Billy's cross-dressing best friend, Michael, and I loved Griffin Birney in "Expressing Yourself" at least as much as his Broadway counterpart. He's just such a little squirt, which tended to make Dameski look older by comparison during this big duet.
A few technical corners are cut in the transition from the Imperial Theatre to Ovens. Scenery is a dark grubby conspiracy between Ian MacNeil's sets and Rick Fischer's lighting, so it can hardly be debased. Yet Sue still noticed the difference in the proscenium, affecting Billy's big "Angry Dance" at the end of Act 1, and I wouldn't be surprised if the set piece at Ovens for the Royal Ballet anteroom is a sorrier affair. More obvious is Billy's upstairs bedroom. In New York, it spirals up from beneath the stage, but here it's rolled in from the wings – except, curiously enough, in the last scene at Billy's home. That has a noticeable effect on how Billy and the Elliots get the news from the Royal Ballet.
Where the tech is absolutely essential, there was no visible scrimping. Before Dad begins to change his mind about allowing Billy to audition, there's a wondrous fantasia where Billy dances an airborne duet with the dancer he hopes to be, played by the magnificently sculpted Maximilien A. Baud. Even before we hear him say he feels this way in "Electricity," we see Billy flying in his own mind, tossed skyward by his future self.
One more electric moment in a show filled with visceral, electric surges.