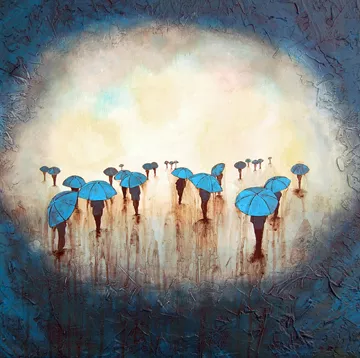 "Into the Rain" by Kendra Baird
Currently on view at Green Rice Gallery is A Few Of My Favorite Things. Participants were asked to choose a few of their favorite pieces for display between Dec. 3 and Jan. 30. Alongside each work, the viewer gains insight into each artist's decision by the small statement provided, which explains why this work has been selected as one of their personal favorites or why they speculated it would be a favorite for the viewer.
"Year round we give our visitors a chance to meet our Studio Artists at work in their respective spaces here in the gallery, now we want to introduce you to them all at once, in one show!" announces the exhibition statement provided. And with so many artists to see, the show was billed for two months to give everyone wall time. On your visit, you'll be able to see works by Caroline Coolidge-Brown, Dwight Hartsell, Isaac Payne, Jonathan Rice, Storm Dancer, Kendra Baird, and many others.
On my visit, I found a few new favorites of my own in the works displayed by Baird and Payne.
Baird selected her painting, "Into the Rain," and a small arrangement of studies completed in conjunction for realizing the final stage of this work. What I found the most appealing was how the group of studies better articulated the "personal umbrella space amidst a crowd" and enabled the piece to more fully explain the intimacy of these times described in her adjoining statement.
Payne caught my attention first and stayed with me the longest, with his larger scale charcoal drawings. An expansive scene of an intersecting overpass dissecting the sky is in the foyer at the beginning of the exhibition. Strong form with bold mark making explains the mammoth structure and its under belly support system through a muted palette. Subtle elements of collage with character defining instances of ink and paint round out the brash visual experience, which define this man-made environment. Payne successfully presents an example of everyday life often taken for granted in a very powerful way.
I suggest everyone swing by to see the large variety of works on display and find a new favorite of their own.
(Green Rice Gallery is located at 451 East 36th St. at the heart of the Arts District in NoDa. The gallery is open Tuesdays through Fridays 11 a.m.- 7 p.m. and Saturdays 12 p.m. – 7 p.m. For more information, go here.)