Check out these events going down in Charlotte and the surrounding area this weekend— as selected by the folks at Creative Loafing.
Friday, Jan. 14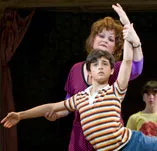 Billy Elliot The Musical
Ovens Auditorium
Music legend Elton John's scores for Billy Elliot The Musical may be good, but they are balanced with an uplifting tale about following one's dreams to the fullest. The smash hit, based off of the internationally renowned movie, follows one boy's journey from an unsuccessful try at boxing to professional ballet.
• Film The Deltas of Charlotte will present its Legacy Film Showcase tonight at McGlohon Theatre. In its eighth year, the showcase features award-winning short films by female African-American filmmakers. more...
• Visual Arts The latest exhibit to grace the walls of Baku Gallery is We The People, a photo retrospective of Charlotte personalities by local photographers. This is a pretty cool way to see the faces behind the places you may or may not frequent. The 2011 Project Halo Pinup's and Pet's calendar — which raises money for the non-kill animal shelter — will also be available during the show. more...
Saturday, Jan. 15
Ring of Honor
Metrolina Tradeshow Expo
Muscular men in tight skimpy clothes will dominate the ring tonight. Of course, this is no strip tease, nor will there be any airy ballet numbers — and by the looks of some of these guys, who look more scary than handsome, I'd say that's better anyway. Instead, the show, put on by pro wrestling company Ring of Honor, looks like a straight shot to the testosterone-fused sport known as wrestling. Tight matches between Roderick Strong and Jay Briscoe (who are competing in a ROH World Title Match) and Davey Richards and Chris Hero (pictured) with Shane Hagadorn (who are competing in a Grudge Match) are in store.
• Film Today the Main Library hosts a one-day film festival, titled Breaking Down Barriers: Creating an Inclusive Community Through Film and Discussion, at ImaginOn. The fest, which includes films that bring light to mental illnesses, will be screening photojournalist Dan Habib's Including Samuel (from 1 p.m.-2:30 p.m.) and Ben X (from 3 p.m.-5 p.m. — see pictured photo from film), a 2007 Belgian drama that picked up three awards at the 31st Montreal World Film Festival. Each film will be followed by a discussion with facilitators from Southeast Psych. more...
• Nightlife Ouzo Productions' kicks off the new year with its Global Fever: Beirut Edition at Dharma Lounge. The series — a nightlife event that honors a range of countries around the world — will feature music from Kosta X and DJ DIM. This time they're going Middle Eastern with a special shout out to Lebanon. more...
Sunday, Jan. 16
The Moon Prince: A Rap Opera
UNC-Charlotte
Peer pressure, gang violence and drug/alcohol use are all obstacles facing today's inner-city youth. With that in mind, James Vesce — who serves as the chair of UNC Charlotte's Department of Theatre — wrote the book and music for The Moon Prince: A Rap Opera. With added lyrics by Marlon Carey, UNC Charlotte College of Arts + Architecture's Department of Theatre is taking the production live.
• Music The Legacy Concert: A Tribute to Dr. Martin Luther King, Jr. at Knight Theater features a performance by Kelly Price, conducted by William Cummings II, Cedric Meekins and Marcus Graham. All proceeds from the concert benefit the Elwood-Edna Foundation for Youth Health. more...
• Music It's like what every band in a movie is practicing for, except for real. Watch nine bands compete to win Gorilla Productions Battle of the Bands. Acts include Soup, The Metric System, Eskatones, Goodnite Swim, A Vision of Silence, Before the Ancients, Matter of Fact, Stride Wore Black and The Bridge, The River. The production company has been hosting battles all over the country with Charlotte being one of many places to catch bands competing nationwide. more...