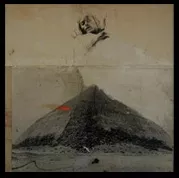 CH-CH-CHANGES includes works by Patrick Atkinson (above) and Chris Watts (below, after jump)
CH-CH-CHANGES is a four-person show now on display through Jan. 29 at Gallery Twenty-Two. All of the artists represented — Patrick Atkinson, Chris Watts, Nicholas Bowers and Alexandra Giannell — communicate their visions through the use of mixed media with strong ties to collage. The show is packed with visually stimulating images.
Atkinson's work has an air of nostalgia: It embodies a memory with its use of older photographs from what appears to be the beginning of the 20th century. The expressive nature of how the paint is applied and how the surface is treated hints at an emotional tale of the relationship with the subject. In "Oh God, A Great Cloud," I like the use of the added plexiglass surface to the large weathered photograph because it adds the reflection of the viewer into the hospital setting of the piece, but the highlighted edge and drop shadow at the joining of the two separate pieces distract and interrupt the conversation between viewer and work. I'm never disappointed with Atkinson's work and always glad to see his pieces.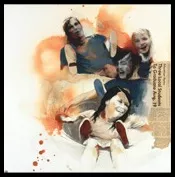 Watts' group of works, using print media as a jumping off point, has elements of the borrowed imagery drawn or transferred, then painted upon and collaged on top of atmospheric settings explained with areas of stained colors like a Frankenthaler painting. In "Suspicious of My Blackness," Watts' use of collage breaks from the equation in comparison to his other pieces. Each element seems to have authority — being placed in this manner/that location like they couldn't be anywhere else. In one broad brushstroke, the faces are erased and the identity of each character removed, but this makes them more easily understood as they could be any one of us. Not only are they more accessible, but in the arrangement of the group, the viewer feels a part of the discussion facing the semi-circle of seated persons or maybe the viewer could be the one guilty of eliminating the identities of the party depicted, reducing the individuals to this overly simple description of who they are.
CH-CH-CHANGES is worth the trip. Gallery Twenty-Two is expecting another year of great artwork as it expands the repertoire to include regional and national artists in conjunction with its support of local artists.
(Gallery Twenty-Two is located at 1500 Central Ave. For more information, go here or call 704-334-0122.)