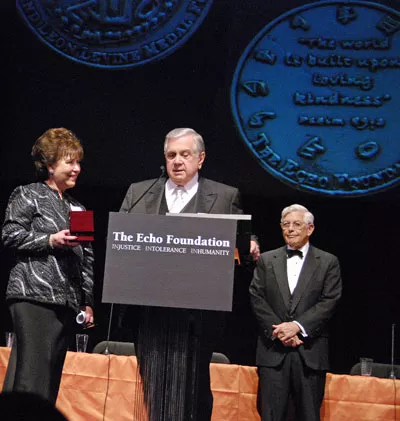 Whether it's a cheery children's hospital, a cancer center, a brand new cultural campus, a branch of Central Piedmont Community College, a lifesaving challenge grant to Charlotte Symphony, or the unique Museum of the New South, the influence of Leon and Sandra Levine on the health and cultural life of Charlotte reaches far beyond your local Family Dollar. Of course, the cash that flows toward all these invaluable philanthropies originates at these latterday five-and-dimes, but Charlotte would be a markedly poorer place if the Levines kept it all to themselves.
As 2010 slinks toward its inglorious end, we can take solace in knowing that local organizations did something right in recognizing the excellence and variety of the Levines' enlightened generosity. Although the signage remained on back order until only recently, the Mint-Bechtler-Knight-Gantt complex Uptown was formally renamed the Levine Center for the Arts in time for the holidays. That came on the heels of several honors showered upon the Levines this past fall.
On Sept. 21, as The Echo Foundation presented A Night to Remember with Nobel Peace Prize laureate Elie Wiesel, Leon and Sandra Levine were Echo's 2010 Award Against Indifference Honorees. Additionally, in a well-kept surprise, The Echo Foundation established the Sandra and Leon Levine Medal for Life, to recognize "those around the world whose generous spirit has made a substantial impact in the lives of others." Date and winner of the first medal have not been announced, but the presentation will coincide with the New York premiere of Echo's new documentary, In the Footsteps of Elie, first screened at the Knight Theater preceding the award ceremonies.
Then on Dec. 2, the Harvey B. Gantt Center for African-American Arts & Culture took over the main ballroom at the Hilton Charlotte Center City Hotel for the 30th Annual Jazzy Holiday Luncheon. Somewhere between chicken and dessert, Mayor Anthony Foxx came to the podium and presented the 2010 Harvey B. Gantt Center Award to the Levines, lauding their philanthropic exploits. Also honored at the celebration were Dr. Spurgeon and Loretta Webber, cited for their civic leadership and arts patronage, and artist/curator/scholar/art historian David C. Driskell, the Afro-American artwork guru for The Cosby Show.
There are good reasons to be awed by Nobels, Pulitzers, Oscars, and MacArthurs, but there are also occasions when the people who are honored add prestige and luster to the very awards they've received. Because they've now honored the Levines, we can look at the laurels bestowed by The Echo Foundation and the Gantt Center with increased respect.
So congratulations, Sandra and Leon Levine, on honors well-deserved! And don't put away your checkbooks just yet – there's a struggling theater outfit or two that I'll be pointing in your direction within the next week.