Here's a shocker: Harry Jones, King of Mecklenburg County, er, rather, county manager, is stalling on pursuing consolidation of city and county governments. Today's Observer reports that Jones wants to delay any definitive moves toward a merger; Mayor Anthony Foxx, who has been pushing for just such a merger, is none too happy about Jones' foot-dragging. Jones says that he and Charlotte City Manager Curt Walton (aka the Undeserved Bonus Twins) want to delay consolidation talks for at least six months. The dubious duo's hesitation, not to say stonewalling, of consolidation comes as no surprise, considering that 1. at least one of them would lose his job whenever full political consolidation of city and county governments took place, and 2. these guys keep forgetting they're employees of the elected leaders.
Read the details of Jones and Foxx's battle-via-media in the story linked above. But don't miss another story today that, in a sane world, would be the final straw for Jones' future as a county employee (sorry, county king). It's about the latest price to be paid for Jones' poor oversight, arrogant decisions, and overall mismanagement by way of treating county government as his private fiefdom. The monetary price we'll pay is $465,0000, to be sent to the federal government for the county's lax oversight of the Open Door program. The price for Mecklenburg County Mental Health Director Grayce Crockett is that she had to take the fall for Jones yesterday by resigning her position. The price for residents of this county is that our county government is still being run by a worn-out, semi-competent, power-hoarding egomaniac.
Mayor Foxx says that if there's no progress soon toward consolidation, "You'll find my voice becoming a lot louder." Enjoy these last 10, festive days of the year, Mr. Mayor, then please, please, do start getting louder.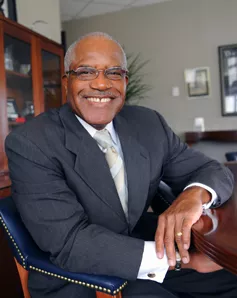 King Harry Jones: Hey, it's his county, you're just living in it.