Check out these events going down in Charlotte and the surrounding area this weekend— as selected by the folks at Creative Loafing.
Friday, Dec. 10
Recess Fest
Venues vary
Weekend festival features more than 25 bands (including Amy Godwin, Andy the Doorbum, Bo White's Holiday Ensemble, Human Pippi Armstrong, In the Year of the Pig, Ultimate Optimist, Veda Woolf and many more) to perform at eight different venues around town. There will also be holiday karaoke, snowflake making stations, hot chocolate, a holiday/sweater party, barbecue, a potluck and more.
• Theater Every holiday season, you're pretty much guaranteed to hear Irving Berlin's Christmas classic "White Christmas," whether it be on the radio or blasting from some album that a family member keeps spinning on repeat (sigh). Luckily, this year you have the opportunity to hear it as it takes on a new form, thanks to Broadway. The musical (of the same title) at Ovens Auditorium, will feature a wintry mix of hits. The merry storyline follows two friends in showbiz that perform at a Vermont inn, where they find the unexpected. more...
• Benefit The annual Jingle Bell Ball is a semi-formal event with music, a silent auction and hors d'oeuvres catered by Blue Restaurant. It's also a way to do some good, since the funds raised from ticket sales benefit United Family Services' domestic violence programs and The Shelter for Battered Women. more...
Saturday, Dec. 11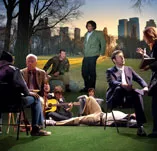 The Day They Shot John Lennon
Carolina Actors Studio Theatre
CAST won't be spreading any holiday cheer onto the stage this year. In fact, its latest production The Day They Shot John Lennon is anything but merry. The show revolves around a group of fans who gather outside of the apartment where Lennon was shot to pay tribute. Take cover as stories are shared and Lennon's legacy is remembered in this show by playwright James McClure.
• Special Event With the arrival of holiday-related stress (shopping, relatives, blah blah ...), I'm sure some of you could use a drink. The 11th Annual Santa Bar Crawl just may be your key to merriment. The crawl will stop in at 11 bars — Dixie's Tavern, Town Tavern, The Attic, Phil's Tavern, Hooters, Tilt, Buckhead Saloon, Suite, Whisky River, Bar Charlotte and Alley Cat — with drink specials. more...
• Special Event Olde Mecklenburg Brewery is brewing more than just beer for the holiday season. Today the brewery will have its own German-style Christmas Market. An array of arts and crafts and other goodies will be available for the gift buying season. Oh, and even better, you can down a beer (maybe the seasonal Yule Bock?), while you browse. more...
Sunday, Dec. 12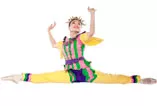 The Nutcracker
Belk Theater
The Nutcracker tells the story of an ordinary young girl who receives a magical nutcracker that's responsible for taking her on a journey through some pretty impressive environments. Take for example, The Land of Sweets which seems ... well ... sweet, sugar highs and all. But that's nothing compared to the characters — a sugar plum fairy, a mouse king, a snow queen, toy soldiers, dolls and, last but not least, a nutcracker prince — who sets the true scene. Be sure to check out North Carolina Dance Theatre's annual Nutcracker performances — as choreographed by artistic director Jean-Pierre Bonnefoux.
• Special Event Chances are we won't be getting any natural ice rinks in Charlotte this winter. But that doesn't mean you have to miss out on the fun-filled (and sometimes painful) traditional ice-skating. You can have at it during WBT's Holiday on Ice at The Green Uptown. Helpful hint: Dress warm and try not to fall. more...
• Theater Charles Dickens penned a holiday classic when he wrote A Christmas Carol. The story follows the cold-hearted Scrooge who is visited by three ghosts (from the past, present and future) on Christmas eve. Witness the holiday classic as Theatre Charlotte stages performances — adapted by John Jakes. more...