Check out these events going down in Charlotte and the surrounding area this weekend— as selected by the folks at Creative Loafing.
Friday, Dec. 3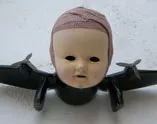 Fluxomat
Slate
Fluxomat - an art concept by Jacqueline Heer - will celebrate its grand opening at Slate tonight. Each month a different artist will bring objects of their choosing to the gallery where they will be declared as art. Pieces in the space will be sold at a higher starting cost, which will decrease in price ($10 less to be exact) each day. At the end of the month unsold pieces will be sold for $1 (Yes, I said $1!).
• Special Event Wine and cheese ... boring! Well, really alcohol's great with pretty much anything, but it's even better with art. During The McColl Center for Visual Art's Palate to Palette 2010: A Wine and Art Pairing Event, six different wines await you, in addition to art by six local and national artists, food, a live performance by Heywire and an art/wine raffle. more...
• Benefit For those of you in dire need of decorating ideas for holiday trees and/or wreaths comes The Festival of Trees Prevue Party at the Harvey B. Gantt Center for African-American Arts + Culture. Since the event features finely decorated trees and wreaths, you're bound to leave with some ideas. In addition, the event — which benefits children and adults with developmental disabilities — will also have live music, a cash bar, hors d'oeuvres and a silent auction. more...
Saturday, Dec. 4
Jon Reep
McGlohon Theatre
You may have recently seen comedian Jon Reep on TV, advertising Zaxby's new caramel pecan pie milkshake as being better than his "meemaw's" (for those of you not fluent in the Southern vernacular, that's "grandmother") actual pies — and then worrying over her newly opened Twitter account. That's just a small sample of the Hickory native's Southern-styled humor. A winner of the fifth season of NBC's Last Comic Standing, he's got heaps of "redneckery" to rap about and you can hear it at his performance tonight.
• Sports In the past few years, women's flat track roller derby has become a sensation across the states. The action-packed sport draws crowds to sit mesmerized at fast-moving skaters who are prepared to bust a move (or hard hit) for a rush of increased speed and a spin of glory around the rink. That being said, I'm happy to announce that the Q.C. now has a new roller derby organization (not affiliated with the Charlotte Roller Girls) called Race City Roller Derby. Its first team, the Charlotte Speed Demons — said to wear sports-style uniforms and use their real names during games — will have its debut bout against the Greensboro-based Gate City Roller Girls today at First Ward Recreation Center. more...
• Festival Snug Harbor will be the home of the 3rd Annual Breastival today. The event is held as a benefit for the Keep a Breast Foundation, which promotes awareness and education for the prevention of breast cancer. It will feature live music by Cement Stars, Fat Camp and Small Talk Industries, as well as performances by punk-dragsters Lilith DeVille and BethAnn Phetamine. DJ Scott Weaver will provide some extra tunes. There will also be donations of art and other items for a raffle. more...
Sunday, Dec. 5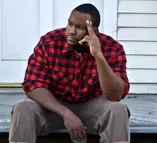 Home
Duke Energy Theatre
Life can seem unbearable when hardships are plentiful and the future seems unknown. In On Q Productions' Home, a 1980 Tony Award-nominated play by North Carolina native Samm-Art Williams, the feeling of hopelessness will penetrate you to the core. In the production — directed by Brian Daye — a small-town farmer named Cephus loses everything and experiences heartbreak, jail time and a downward spiral in his try at big city living. Luckily, he keeps his head up through the ordeal, which gives him the energy to find purpose homeward bound.
• Theater Steve Solomon has reason to fear this time of the year. After all, the holidays go hand in hand with family gatherings. His debut performances of My Mother's Italian, My Father's Jewish & I'm In Therapy put a comedic spin on his upbringing, so it should come as no surprise that his latest show My Mother's Italian, My Father's Jewish & I'm Home For The Holidays dives even deeper into dysfunctional merriment. See it today at Booth Playhouse. more...
• Theater Actor's Theatre of Charlotte decided to spread its holiday cheer with a new production titled, Every Christmas Story Ever Told. Three actors and a very tipsy Santa reminisce on classic holiday stories, carols and TV specials. Oh, and the audience can chime in during the show. more...