The UniverSoul Circus is finishing up its 10-month long tour this month, and luckily for us, Charlotte is one of its final stops.
Last night, I was among a packed-full crowd to witness incredible acts by performers from all four corners of the world. If you haven't already, you still have until Sunday to experience the family, fun-filled tradition of the circus. But, you should be warned, UniverSoul is not just any ordinary circus. Of course, there's all the circus favorites: cotton candy, popcorn, clowns, and elephant rides. But UniverSoul is a high-energy, soulful show with a twist: an international appeal. The show features a two-man basketball act from Holland and Belgium with unbelievable dribbling skills, breathtaking aerial artists from China, and heart-pounding trapeze artists from Colombia, Africa and the Dominican Republic. My personal favorite … the adorable poodle brigade from Russia.
Dog lovers do not want to miss Russian poodle trainer Irina Markova and her "Pampered Pooches." On stage, these costume-clad poodles perform mind blowing acrobatic tricks, jump rope, form a conga line, and stand up on their hind legs to dance. Markova and her poodles were featured at the Sundance Film Festival 2010 in The Poodle Trainer, an intimate portrait that goes behind the red curtains and into "the childhood tragedy that sparked a lifetime of working with animals." Earlier this week, the poodles were a spectacle for crowds as they took a break from the circus and strolled the streets in uptown Charlotte. They also made a special appearance at the Bobcats game on Monday. (photo courtesy of UniverSoul's Facebook page)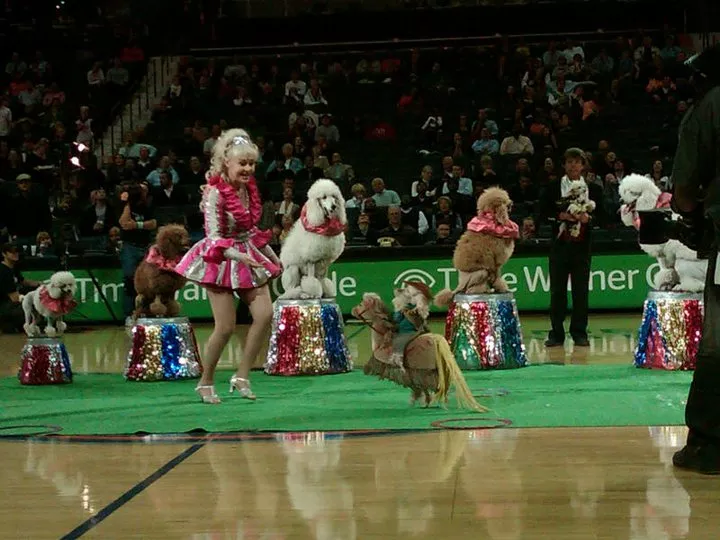 The poodles aren't the only animal act at UniverSoul. What would a circus be without a show with elephants and tigers? Well, it just wouldn't be a circus at all. $17.50; free for children under 12 months. Now until Sunday; times vary. Freedom Shopping Mart Center. For more information, visit www.universoulcircus.com.
— Lauren Blake