Check out these events going down in Charlotte and the surrounding area this weekend— as selected by the folks at Creative Loafing.
Friday, Nov. 12
Vikter Duplaix
Dharma Lounge
House music heads, your chance to dance has come once again — courtesy of the Grammy-nominated, Cali-based singer/producer/DJ Vikter Duplaix. Missing this rare DJ set — dubbed Infusion and featuring the man himself spinning lush, soulful tracks, both old and new — would be, uh, stupid. Plus: Charlotte's own turntable superstar That Guy Smitty is scheduled to open the show. Enough said.
• Dance North Carolina Dance Theatre's annual Innovative Works performance gets environmentally-friendly this time around. As usual, it will feature a series of short ballets, but this year's twist involves strictly green-inspired pieces. The show will feature a total of seven different works. more...
• Nightlife Ouzo Productions returns with a new edition to its nightlife series, Global Fever. This time around the party spotlights The Balkans (representing countries like Kosovo, Albania, Serbia, Bosnia, Croatia, Montenegro, Slovenia, Bulgaria, Greece and more) at the freshly-opened club, Marigny. DJ Nicknakis and Kosta X will spin house and ethnic hits from around the world. more...
Saturday, Nov. 13
Turkish Festival of Charlotte
Extravaganza Depot
The fest — organized by the American Turkish Association of North Carolina at Charlotte — will celebrate the culture of Turkey with traditional folk and belly dancing, music, exhibits, a raffle and vendors, activities for children, cooking workshops and last, but not least, native cuisine. Kebabs ... check. Baklava ... check. And there's more too. Arrive hungry in order to participate in pure culinary delight.
• Film The Winter Film Festival at the U.S. National Whitewater Center will feature screenings of two action-packed films, including The Ski Channel's The Story (which follows famous American skiers into the tops of Mount Everest and Alaska) and Matchstick Production's, The Way I See It (which documents journeys made by award-winning skiers Bobby Brown and Sean Pettit). more...
• Festival Gay Bingo is one of the biggest events to take place each year, chockfull of outrageous costumes, song and dance numbers and, of course, Bingo, with proceeds benefiting RAIN (Regional AIDS Interfaith Network). The host Shelita Hamm and her backup ensemble The BVDs have rocked out for 10 years, but sadly, this year's event will be the final one. Appropriately enough, the crazy folks behind Gay Bingo are going out with a bang. The theme is "A Glee-Ful Celebration," and organizers are promising it to be one hell of a night. more...
Sunday, Nov. 14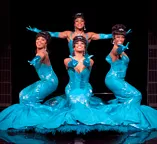 Dreamgirls
Belk Theater
Someone had better call the soul patrol, because Belk Theater has been invaded. During Broadway's Dreamgirls you'll hear catchy, heart-felt tunes (like "And I Am Telling You I'm Not Going," "One Night Only" and "Listen") in addition to drama (and lots of it!). The production tells the story of a 1960s all-girl group and their experiences with the ups and downs of show biz. Syesha Mercado — a finalist in season seven of American Idol — stars in the show.
• Festival In its 17th year, The Carolina Renaissance Festival — continuing today — is a medieval amusement park, featuring a variety of live performances, an arts and crafts fair, a jousting tournament, food and more. It's also a great place to people watch. more...
• Dance Winthrop Dance Theatre shows off its skillful footwork during a concert featuring an array of innovative dances choreographed by faculty, guest artists and alumni. more...