Republicans in Raleigh campaigned hard on a promise to balance the state budget next year by cutting out fat and waste. Dems responded by saying the GOP plans would hurt a lot of North Carolinians who deserve better. Now, top GOP lawmakers are admitting publicly that their plans will, indeed, be painful for a lot of people in the state.
House Minority Whip Thom Tillis, a Cornelius Republican who wants to be the next House Speaker, told WRAL-TV in Raleigh that the GOP's cuts could result in "legitimate, sad stories about people who may end up suffering." Tillis and his family are not among the people who "may end up suffering," of course, but we're sure he feels the pain of the unfortunates who will wind up on the short end of his budget stick. Two things come to mind:
1. Thanks a lot, Republicans, for not mentioning in your election speeches that your plan included the creation of "legitimate, sad stories."
2. Someone, namely Tillis and, no doubt, his cohorts, don't seem to realize that North Carolina's budget cuts have already caused sad stories all over the state, and the last thing our most vulnerable citizens need is their own government piling yet more abuse on them.
Many in Raleigh expect the GOP to also push for substantial layoffs among state employees. WRAL quoted Dana Cope, executive director of the State Employees Association of North Carolina, who said, "The folks who've been out of power . . .are going to have a good education in what it takes to run government," and predicted that the lawmakers would eventually "feel the wrath of taxpayers who have come to depend on quality public services." But, hey, that's exactly what voters were thinking of, I'm sure, when they cast ballots last week, right? Oh, no, sorry, I had last week's election confused with one in which spite and fear didn't play major roles. My bad.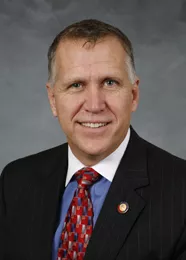 N.C. Rep. Thom Tillis: already insufferable