Republicans have taken control of the U.S. House of Representatives and their favorite target, Nancy Pelosi won't be the speaker when the new congress is sworn in. So, does this mean they've taken our country back? ("Back to what?" — is my question.)
How will North Carolina be represented in Washington? Depends on what side of the aisle your loyalties lie on.
Here's a look at some of our national representatives, this is not a comprehensive list of everyone N.C. is sending to Washington, but the ones who will probably give us the most joy and tears:
U.S. Senate:
Richard Burr (R)
U.S. House of Representatives: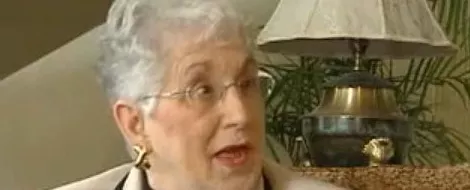 District 5: Virginia Foxx (R) Voters really sent her back? (Pictured above.)
District 8: Larry Kissell (D)
District 9: Sue Myrick (R) Voters really sent her back too?
District 10: Patrick McHenry (R) Really?
District 11: Heath Shuler (D)
District 12: Mel Watt (D)
Here at home, the make up Mecklenburg County Board of Commissioners grew by one Republican, who used to be a Democrat.
In the at large race, the top three vote-getters were: Jim Pendergraph (R), Jennifer Roberts (D) and Harold Cogdell (D).
The Democrats still have the majority on the board, despite Pendergraph's win. Since the former sheriff used to be a Democrat, it leaves room for him to break with his new party on certain vote — at least that's what we should hope for. County employees who were counting on domestic partner benefits can breathe a slight sigh of relief; Bill James didn't get his new gang of five to overturn the benefit.
Will the revolving door of justice finally get slammed shut? Andrew Murray won the Mecklenburg County District Attorney job, besting City Councilman Michael Barnes. Does this mean repeat criminals will now be facing sentences rather than plea agreements?
For a list of all the races in Mecklenburg County, click here