You will be proud to know that North Carolina has landed two slots in a new Salon.com survey of "The ten most terrifying would-be congressmen." It's not an unexpected achievement, considering our state's habit of electing goofballs like Virginia Foxx, Sue Myrick and Patrick McHenry to Congress, but we'll take the extra attention anyway. Some of the "stars" of the list are an Arizonan who gladly accepts help from white supremacists and neo-Nazis; a guy in Ohio accused of trying to rape a Christian cutie he met at a Tea Party rally; and an ex-cop in Massachusetts who threatened the parents of a girl who filed a complaint about an illegal strip search.
Those are fine specimens all, so it's with pride that we note the inclusion on the list of two N.C. politicians we've written about before: Ilario Pantano and Renee Ellmers. Pantano, who is challenging incumbent Rep. Mike McIntyre in District 7, is a hero of right-wing extremists for a 2004 encounter in Iraq in which he killed two unarmed prisoners, firing around 60 rounds at them from very close range. Murder charges were dropped due to prosecution screw-ups, and even his GOP opponents in the primary have asked Pantano to step down because they consider him "untrustworthy."
Renee Ellmers, you may remember, is running against incumbent Rep. Bob "Who are you?" Etheridge in District 2. She's the candidate who grabbed 15 minutes of notoriety by basing her campaign around her opposition to what she calls the "victory mosque" two blocks from the 9/11 site in New York. Her television ad garnered national attention for conflating all Muslims with terrorists, for which she was later smacked down on CNN by Anderson Cooper. Congrats to our N.C. winners!
Congressional candidate Renee Ellmers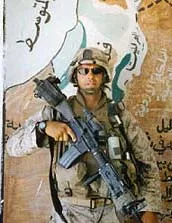 Congressional candidate Ilario Pantano