Check out these events going down in Charlotte and the surrounding area this weekend— as selected by the folks at Creative Loafing.
Friday, Oct. 15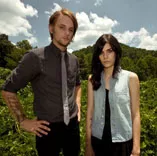 Homebrew CD Release Party
Neighborhood Theatre
It's time for the release party of Jeff Hahne's Homebrew Vol. 4 CD. Hahne, Creative Loafing's music editor, has handpicked 16 local bands for the disc — which you can grab for free at Neighborhood Theatre during the shindig. Bands like Bubonik Funk, Electric Coma, Mike Strauss Band, Matrimony (the pictured newlyweds, just back from the United Kingdom), Isaac Spiveys, Wiggle Wagons and Grown Up Avenger Stuff will also be performing. And that's free too. Score!
• Theater Kahlil Ashanti returns to Charlotte for a third round of his one-man show, Basic Training. The show is based off of true experiences — his time in the army, serving as a member of the U.S. Air Force's entertainment troupe Tops in Blue and his quest to find his biological father. Ashanti plays the parts of 23 very different characters, from a crazy foul-mouthed drill sergeant to a sweet abused mother. Show contains adult language and content. more...
• Nightlife Rockhouse Events presents its Friday Night Frights: The Bar Crawl tonight. $20 includes free cover to five bars, drink specials, VIP tickets to The Fright Factory at NC Music Factory and transportation to and from all stops on the crawl. more...
Saturday, Oct. 16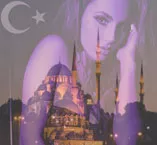 Global Fever: Istanbul Edition
Dharma Lounge
It's easy to feel like you've gone international at Ouzo Productions' Global Fever parties — which bring together a diverse crowd and highlight various countries/cities from around the globe. Presenting its Istanbul edition at Dharma Lounge this Saturday, folks attending can expect a night of Turkish delight (and no, I don't mean the sweet). Rather, DJs Kosta X and DIM will spin hits for the dance floor from around the world (including Greek, Russian, Arabic, Bosnian, Albanian, Persian, Indian, Brazilian and Spanish selections, in addition to those from the destination of the night: Turkey).
• Comedy Charlotte's own improv troupe, The Chuckleheads, will celebrate its third b-day in the comedy biz tonight at Morehead Street Tavern. The show, titled "Happy Birthday To Us III Comedy Improv Variety Extravaganza," will feature a double shot of performances with a pre-birthday show by the Junior Chuckleheads at 8 p.m., followed by a birthday show by the Senior Chuckleheads at 9 p.m. more...
• Art Charlotte Arts Catalyst hosts its Monsters: A Coloring Book Featuring People You Know at Pura Vida Worldly Art in Plaza Midwood tonight. Coloring books and drawings from more than 30 artists across the region will be on display and there will also be candy, a Halloween-themed bake sale, live music, spooky sounds from Tyler Baum and more. more...
Sunday, Oct. 17
The 15 Short Film Festival
The Evening Muse
In its fourth year, The 15 Short Film Festival returns to The Evening Muse. This fest — created by Charlotte natives Ryan Walker, Antonio Diaz and Keith Whatley — is, in my opinion, one of the best fests in the Q.C. Intriguing and award-winning shorts from acclaimed film festivals (like Tribeca, Sundance, Cannes, South By Southwest and Slam Dance) are shown for your viewing pleasure. Each must be 15 minutes or less in running time — which means that even if they show something you don't like, it doesn't feel like forever. Nineteen short films — carefully picked out of the more than 500 submissions — from 15 countries make up this year's screening. Arrive early to snag a seat.
• Comedy During the Comedy Turns Right: Common Sense Comedy for Uncommon Times show at Booth Playhouse, you can get a double dose of laughs provided by comedians James Gregory and Mark Klein. more...
• Festival In its 17th year, The Carolina Renaissance Festival is a medieval amusement park, featuring a variety of live performances, an arts and crafts fair, a jousting tournament, food and more, all rolled into one, non-stop day long adventure. more...