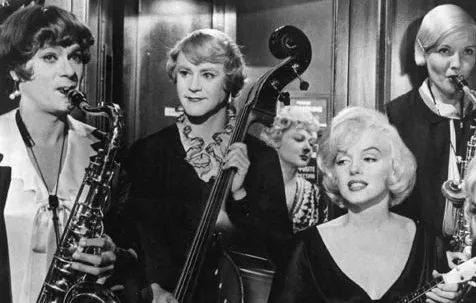 By Matt Brunson
SOME LIKE IT HOT (1959)
DIRECTED BY Billy Wilder
STARS Marilyn Monroe, Tony Curtis
Billy Wilder's immortal screen gem was voted the best comedy of all time by the American Film Institute in 2000, and you won't find many movie fans who don't at least agree that it's near the top of the heap. If for some inconceivable reason you've never seen it, here's your chance: As an homage to co-star Tony Curtis, who passed away Sept. 29 at the age of 85, there will be a free screening of the film this upcoming weekend.
Caught in the wrong place at the wrong time — specifically, front-row seats for the St. Valentine's Day Massacre — musicians Jerry (Jack Lemmon) and Joe (Curtis) evade the mobsters hot on their trail by disguising themselves as Daphne and Josephine, two members of an all-female jazz band. Leaving Chicago and ending up in Florida, both guys have their hands full trying to keep up the ruse; additionally, Joe decides to occasionally disguise himself as a millionaire in order to romance band singer Sugar Kane (Marilyn Monroe) while Jerry elects to marry a real millionaire (Joe E. Brown) who actually believes he's a woman.
There isn't much to say about this masterpiece that hasn't long ago entered into cinema folklore, whether it's the off-screen troubles with Monroe, the endless barrage of classic quotes (the film's final line is legendary, though I have a soft spot for Jerry's description of a sashaying Sugar: "Look at that! Look how she moves! That's just like Jell-O on springs!"), or the risqué double entendres that somehow slipped by the censors (presumably, they were too busy laughing to care). An Oscar winner for Best Costume Design, this earned five other nominations, including bids for Wilder (as both director and co-scripter with I.A.L. Diamond) and Lemmon; inexplicably missing were the nods for Monroe (in the finest performance of her career) and Best Picture.
As for Curtis, he was always a movie star first and an actor second ("I even married Janet Leigh for my career," he admitted), although he did manage to hit one out of the park on a few occasions: 1957's Sweet Smell of Success (opposite Burt Lancaster), 1958's The Defiant Ones (for which he received his only Oscar nomination) and, of course, Some Like It Hot, in which he based his amusing performance on his favorite actor, Cary Grant.
(Some Like It Hot will be screened at 2 p.m. Saturday, Oct. 16, in the Wachovia Theatre at ImaginOn. Admission is free.)