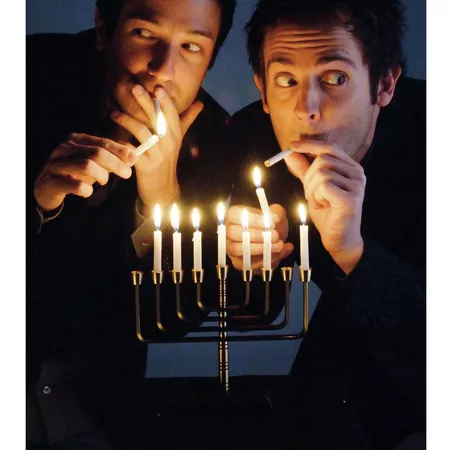 When I saw the off-Broadway production of Jewtopia in 2006, I found the play by Bryan Fogel and Sam Wolfson almost perfectly mediocre, not as funny as I hoped and not as offensive as I feared. The comedy about a Christian getting tutored by a typically lapsed Jew on how to be Jewish – so the gentile could marry a Jewish American princess and never have to make another decision for himself again – reveled in running the gamut of stereotypes that have been pickled in brine for decades by Catskills comedians.
So after wondering and worrying what World of Jewtopia would be when it swung into Charlotte, I was pleasantly surprised to find that the road show wasn't a stale sequel. Fogel and Wolfson performed the piece, mixing snippets from Jewtopia with new sketches and schtick, layering on some instructive audiovisual presentations on Jewish behavior (all devoutly stereotyped), and sprinkling in interludes of audience participation in a freewheeling Shabbos Night Live format.
The story behind Jewtopia, as it turns out, is far more hilarious than the comedy in Jewtopia. Figures. You can't project a larger-than-life photo of your mother's insane freezer – complete with callouts pointing to the most bizarre items (including a placenta) – in an off-Broadway play and describe mom's embarrassment when she appeared on Oprah. And you can't have it both ways when you've opted for the proverbial fourth wall, shoveling out piles of comedy clichés and then tacitly admitting, as Fogel and Wolfson did last week at Booth Playhouse, that you're trafficking in stereotypes. Therapeutically, the two stand-up comics were gleefully emptying real skeletons from their family closets – and their own photo albums – not worrying about chronology or how to weave them into a slick storyline.
Fogel and Wolfson's ability to have it both ways was subtly underscored as they schmoozed with the audience, comparing and contrasting responses that were called out by the crowd to those of other towns and regions. Between compliments or brickbats on Charlotte's individuality came the tried-and-true oversimplifications about Jewish men, women, and mothers. Aside from the mind-blowing freezer segment, there were choice tidbits on classic Jewish cuisine, the Jewish way of traveling, finding fault with every table in a restaurant, changing any item you order on a menu beyond recognition, and the operatic art of cheching. I'm pretty sure that last word is a Fogel coinage, signifying the stentorian bringing up of phlegm at the dinner table. Gross? Of course gross!
With a kugel, a matzoh, and a knish, it would have been a full meal.