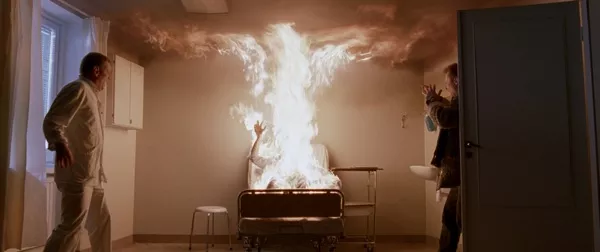 By Matt Brunson
LET THE RIGHT ONE IN
***1/2
DIRECTED BY Tomas Alfredson
STARS Kare Hedebrant, Lina Leandersson
Given tomorrow's opening of Let Me In, viewers interested in catching this vampire film might first want to check out the original 2008 film that inspired it. Let the Right One In is a superior horror yarn, although in the annals of vampire cinema — a rich vein that has already produced definitive flicks with Bela Lugosi and Christopher Lee, two wondrous Nosferatu masterworks, and even a bloodsucking ballet (Dracula: Pages from a Virgin's Diary) — it would be a stretch to claim that it ranks in the highest echelons of the genre. But it comes closer than one would rightly suspect.
A Swedish import that uses its frozen environment to great advantage, this picture, like Twilight, shows the effect that a vampire can have on the social life of a school-age loner. Here, the central kid is Oskar (Kare Hedebrant), a 12-year-old boy who has no friends and who's the constant target of the school bully and his sycophants. One night while hanging around his apartment complex, he meets his new neighbor: Eli (Lina Leandersson), a mysterious 12-year-old girl. Eli tells Oskar right off the bat that they can't be friends; what she doesn't tell him is that it's because she's a vampire. But Eli is every bit as lonely as Oskar, so the two end up spending a lot of time together. Oskar doesn't always understand Eli's behavior — for example, why eating candy makes her violently ill — but he accepts every aspect of their friendship in a matter-of-fact manner. Meanwhile, her empty stomach continues to rumble, and the other neighbors are looking mighty tasty.
From the Frankenstein creature to the wolf man, the movies have frequently given us sympathetic monsters. There have even been pitiable vampires, yet it's possible that little Eli is the most tragic of all. With no backstory on hand, we have no idea what led to her present situation, but it's poignant when she tells Oskar, "I'm 12. But I've been 12 for a long time." Her craving for blood can't be helped, yet it's still chilling to watch the manner in which she descends upon one of her victims (almost as chilling as the later scene in which the victim, now tainted by vampire blood, is attacked by a roomful of frenzied cats). But it's Eli's friendship with Oskar that redeems her, and helmer Tomas Alfredson, working from an astute screenplay by John Ajvide Linqvist (adapting his own novel), emphasizes this connection with a lovely directorial touch: During the bloody climax, he focuses not on Eli's blood-splattered mouth but on her twinkling eyes, ones that wrinkle slightly as she stares approvingly at the best friend a vampire ever had.