Once upon a time, we thought the Republican Party couldn't possibly put up a worse candidate for public office than George W. Bush. Then we heard about Rick Santorum, so he became the "worst possible." Then Patrick McHenry and Virginia Foxx joined North Carolina's "already the worst" member of Congress, Sue Myrick, in the right-wing loony bin, and we thought we'd seen it all. But then, Andre "Not gay, dammit" Bauer ran for governor of South Carolina. Then Tim D'Annunzio started holding "machine gun socials" as fundraisers on N.C. soil, and we knew the party had hit rock bottom. But no! Here came Sharon "Rape is part of God's plan" Angle in Nevada, and now, the media is agog over the new U.S. Senate candidate from Delaware, Christine O'Donnell, who wants you to know that masturbation = adultery. Yep, with Christine O'Donnell — whom even hardline conservatives like Karl Rove and Bill Kristol think is an idiotic crook — the GOP has surely, finally reached the bottom of its own particularly scrape-worthy barrel. Right? Well, maybe not.
We'll leave it to you to decide whether one more Republican candidate should be the new leader in the party's race to the bottom of the barrel — and he's from North Carolina. Meet Ilario Pantano, Republican candidate for the U.S. House from N.C.'s 7th District, which includes Fayetteville, Lumberton, Wilmington and environs. The latest member of the GOP's Bottom of the Barrel Club hasn't garnered a lot of publicity — at least, until he spoke at the recent anti-mosque rally in New York City. Pantano has made his time served in Iraq with the Marines a centerpiece of his campaign, which is understandable from a purely political standpoint, as the 7th District is heavily invested in the military. The problem is that Pantano was accused by army prosecutors of killing two Iraqi civilians in cold blood — and then reloading and shooting them some more. In all fairness, Pantano was not convicted of the murders, but the details of how the prosecution's case against him "collapsed" are shady. "Shady" is also the word for Pantano's reputation among his former colleagues — so shady, in fact, that the men he defeated in the GOP primary asked him to quit the race because they judged him untrustworthy, for various reasons you can read about here. As one of the candidates, Will Breazeale, put it, he's a lifelong Republican, but when it comes to Pantano, "I put this country before this party." Here is an excerpt from an article in Mother Jones magazine about Pantano's murder charges in Iraq. Judge for yourself.
"The central facts of the incident that made Ilario Pantano famous are not in dispute. On April 15, 2004, Pantano, a second lieutenant in the Marine Corps, led a small group of Marines to search a suspected insurgent hideout in Mahmudiyah, Iraq, outside of Fallujah. As the patrol neared the house, two men tried to leave in a car. The Marines stopped, searched, and handcuffed the men. A Marine scoured the vehicle, but didn't find anything incriminating. After other Marines found weapons in the house, Pantano had the men uncuffed and ordered them to search the car themselves. At some point during that search, Pantano felt threatened by the two men. He shot them both—pausing to load a second magazine into his M-16 before emptying that clip too. Then he placed a cardboard sign reading 'No Better Friend, No Worse Enemy'—the motto of his Marine battalion—on top of the car. He wanted 'to send a message to these Iraqis and others,' he said later.

"For a time in 2005, it looked like Pantano might be court-martialed for killing the two Iraqis. One of his subordinates claimed the shooting was unjustified. But the prosecution's case collapsed in an early hearing, and Pantano was never even tried. The judge in charge of the hearing recommended non-judicial punishment—but Pantano's commander didn't agree, and he was never disciplined."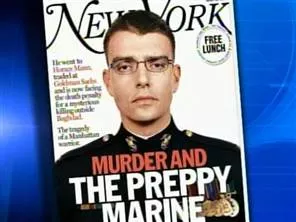 Congressional candidate Ilario Pantano