By Matt Brunson
STARCRASH (1979)
**** (Rating For Caroline Munro Fans, Sci-Fi Completists & Bad-Movie Buffs)
* (Rating For The Rest Of Humanity)
DIRECTED BY Lewis Coates
STARS Caroline Munro, Marjoe Gortner
Many of us fortunate enough to have been kids when the Star Wars explosion occurred in 1977 spent the rest of our youths obsessed with all things science fiction. (This might help explain why the woeful TV series Battlestar: Galactica and Buck Rogers in the 25th Century managed to last more than one episode apiece, but I digress.) At the tender age of 13, I personally couldn't get enough of Starcrash, Italy's low-budget answer to George Lucas' blockbuster.
The film was picked up stateside by Roger Corman (indeed, this new DVD release comes courtesy of the Roger Corman's Cult Classics line), but I actually caught it while living in Portugal, where it played at a local theater longer than one would deem healthy for the minds of impressionable lads and lasses. Clearly, it was no Star Wars, but damn if it didn't get the job done for those seeking more fantasy-laced thrills. Of course, seeing the movie again as an adult, it's an embarrassment — was I really that easy to please as a teen? — but to paraphrase The Godfather: Part III, just when I thought I was out, it pulls me back in. This isn't a bad movie like The Switch or Grown Ups, where even once is too much; this is the type to be savored again and again, like a patented Ed Wood mess-terpiece.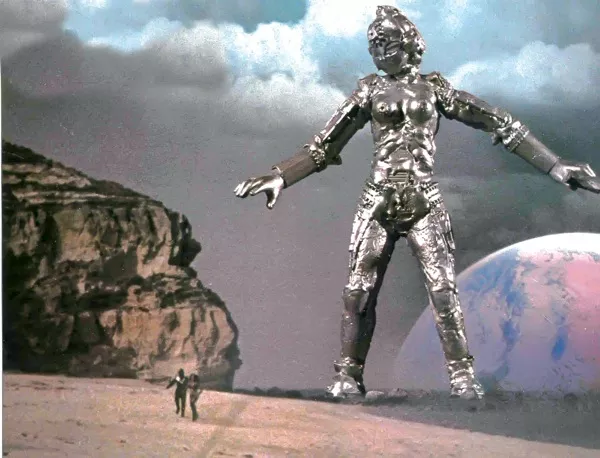 The main reason it appealed to my virginal 13-year-old eyes was, of course, beauteous Caroline Munro, who, as heroine Stella Star, dressed like nobody in the Star Wars universe. Munro, whom I had remembered from earlier roles opposite James Bond, Sinbad and Dracula, proved to be a memorable leading lady, even if this British thespian had to suffer the indignity of being dubbed by a Yank actress. Even with this unfortunate handicap, Munro is, ahem, perfect as Stella Star, a space outlaw who attempts to save the universe from the cackling villain Zarth Arn (Joe Spinell).
Surely, the similarity of the name Zarth to Darth is a coincidence, equally as dictated by chance as the fact that this film includes characters fighting with sabers made of light, spaceships that can suddenly take off at warp speed, and a climactic assault upon a death sta— uh, thingee. But Starcrash also gives us sights previously unimagined by Star Wars, including a robot with a Southern (not British!) accent, a planet populated by Amazon hotties (smelly Jawas need not apply) and rising young actor David Hasselhoff wearing as much mascara as Munro. And for street cred, there's a decent score by John Barry (listen carefully and you can hear strains that he would later use in his Oscar-winning Out of Africa soundtrack) as well as a competent, somber — and therefore dull — turn by Christopher Plummer as "The Emperor." The way The Emperor saves everyone at the last possible nanosecond — well, it's unlikely that even The Force could top this neat trick.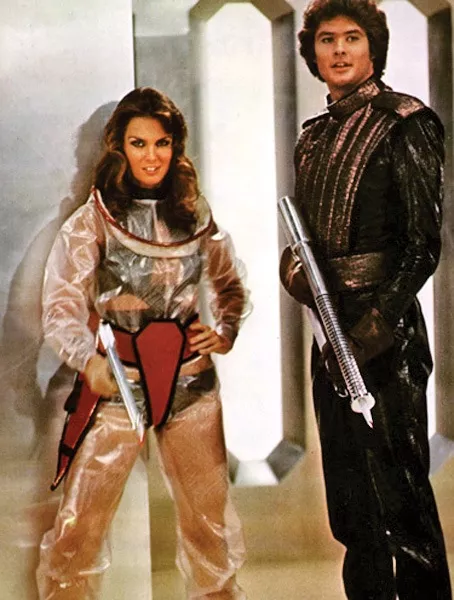 DVD extras include a 12-page booklet by author Stephen Romano (whose experiences with the film often mirror my own — and doubtless those of a million other guys who came of age at the time); audio commentary by Romano in which he discusses the film's history; a separate audio commentary in which Romano breaks down scenes; 17 deleted and extended sequences (mostly footage that was trimmed by Corman from the international print to make it speedier for U.S. audiences); a 73-minute interview with Munro; a 40-minute interview with director Luigi Cozzi (aka Lewis Coates); 20 minutes of behind-the-scenes footage; and theatrical trailers.
For reviews of more new DVD releases, check out tomorrow's View From The Couch column in print or here at www.clclt.com/film.