As the headline suggests, here are a few picks of exhibition openings to check out this month in Charlotte — as selected by the folks at Creative Loafing.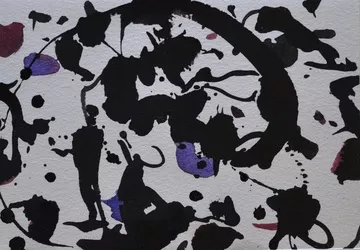 Art featured in Elder Gallery's new exhibition.
• Elder Gallery Discoveries: New Artists 2010. Featuring paintings and sculptures by artists selected to be represented by the gallery. Opens on Friday, July 2. Exhibition continues through July 31. Elder Gallery, 1427 South Blvd. 704-370-6337. www.elderart.com.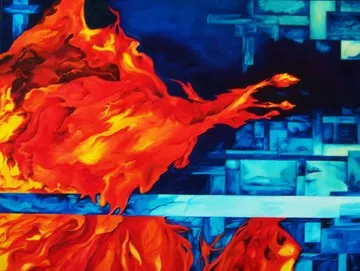 Jill Chisholm's "Fire & Ice" painting is featured in the Organic Geometry exhibition at Julia's Coffee.
• Organic Geometry. Featuring abstract oils and ink drawings by Jill Chisholm. Exhibition opens on Fri.,July 2 and there will be a reception on Fri., July 9. Exhibition continues through July 31. Julia's Coffee, 1133 N. Wendover Road. 704-962-2467. www.juliascoffee.org.
Art by Jay Thompson can be seen at Green Rice Gallery.
• Aotearoa: Land of the Long White Cloud. This colorful showcase of acrylic paintings reflects artist Jay Thompson's recent experiences from backpacking across the New Zealand. Reception on Friday, July 2, 7 p.m.-9 p.m. Exhibition continues through Aug. 1. Green Rice Gallery, 451 E. 36th St. 704-344-0300. www.green-rice.com.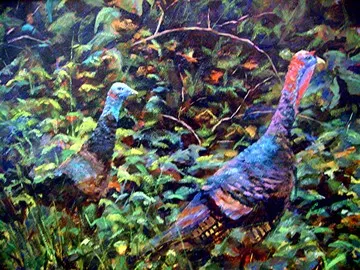 Lita Gatlin's "Hen and Gobbler" painting will be featured in Providence Gallery's Transitions exhibition.
• Transitions. Featuring landscapes, seascapes, figurative and still life works by Lita Gatlin. Opens on Tues., July 6. Exhibition continues through July 31. Providence Gallery, 601 Providence Road, Suite A. 704-333-4535. www.providencegallery.net.
This teapot by Fred Johnston will be on display at RedSky Gallery.
• Group Ceramics Show. Featuring a combination of sculptural and studio ceramics from Donna Craven, Kim Ellington, Carol Gentithes, Fred Johnston, Matt Kelleher and Emily Reason. Opening reception on Friday, July 9, 6 p.m.-8:30 p.m. Exhibition continues through Aug. 31. RedSky Gallery, 1244 East Blvd. 704-377-6400. www.redskygallery.com.