Happy Fourth of July weekend! As we've done before, we're celebrating some of the great things about America. There's a long-overdue debate coursing through the country about the meaning of patriotism. For much too long, the mainstream image of American patriotism has often been confused with blind nationalism, chest thumping, and military "adventures." I suggest another way to love the United States — by celebrating our heritage of independent thought, our underlying, wild, democratic instincts, our cultural richness, and our national belief in progress. Let's honor our exhilarating popular culture, our love of athletics, and our role as a haven for other countries' outcasts (sorry, Arizona); our brassy expansiveness, gorgeous landscapes, and astonishing cultural variety. In that vein, we're presenting a Top 20 list of great things about America, none of which have to do with going overseas to shoot foreigners. Think of it as a way to remember that the country belongs to all of us — and as a way to reclaim American patriotism from the knuckle draggers. We ran numbers 11-20 of our list yesterday. Here's the Top Ten.
10. Those glorious skyscrapers from the 1930s, particularly the Empire State and Chrysler buildings in New York.
9. Popular design of the late-1950s and early-1960s — cars, radios, refrigerators, lamps, and even coffee tables that looked like variations on rockets, full of energy and tacky exuberance.
8. The richness of speech and the subtle variations in accents as you cross from state to state, region to region, sometimes from town to town.
7. New Orleans. Beyond post-Katrina politics and the BP mess that affects the entire Gulf Coast, this tacky, muggy, bug-ridden city is a national cultural treasure, jam-packed with entrancing music, extraordinary food, oddly singular architecture, and great writers. Our oldest living example of real cultural pluralism.
6. Hollywood, and American movies, which for a century have been a kind of surrogate imagination for the whole world.
5. The wide variety of our gorgeous coastlines: Maine's rocky terrain, Cape Cod, the Outer Banks, the South's sea islands, Florida's sugary Gulf Coast (God help them), Malibu, Washington's Olympia peninsula, and the rugged beauty of Big Sur.
4. American food: Fried chicken, cheeseburgers, corn on the cob, North Carolina barbecue, Philly cheesesteaks, Chicago hot dogs, New York pizza, Tabasco sauce, gumbo, peanut butter, grits, Wisconsin cheese curds, candied yams, and sugary, fizzy colas.
3. Indigenous American music. All of it: jazz, country, rock 'n' roll, R&B, hip-hop, folk, pop, gospel, bluegrass, zydeco, and the blues. Is this stuff in our bones, or what?
2. Our hybrid nature. Our country, our culture, and most of our people are mutts, and that's a wonderful thing. Nearly everything we produce, including our music, art, and cuisine, is a mix of something with something else -- some British here, some Polish there, mix it with some Irish, Scandinavian, Italian, Haitian, French, Latino, Chinese, or American Indian, add a dash of Vietnamese and Greek, and *voila -- that's all-American.
1.The Bill of Rights. The legal basis of our freedoms, and our main protection from misguided authority.
The Chrysler Building in New York City
Our cultural hybrid President gets set to eat some gumbo in cultural hybrid New Orleans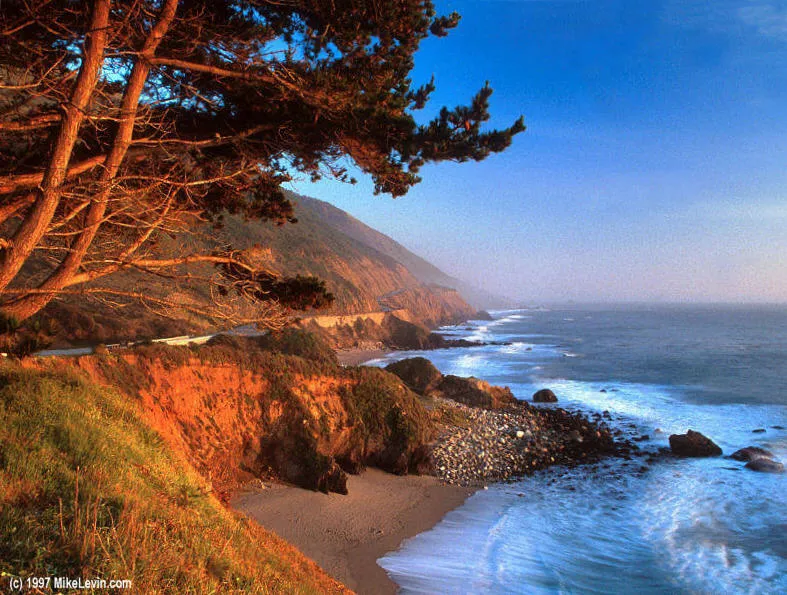 California's Big Sur / courtesy mikelevin.com