One of the low points of the health care reform debate (or a high point, if you enjoy the comedy of watching stupid people making speeches) was the statement by Rep. Virginia Foxx (R-NC) that the reform bill was a greater threat to America than any terrorist could ever be. Now it looks like Foxx has a contender for dumbest GOP member of the House of Representatives.
The latest right-wing buffoon? That would be Mississippi state Sen. Alan Nunnelee, who won a GOP congressional primary in that state this week. He upped the ante on Foxx's claims when he told an audience that Democratic Party policies are a bigger threat to the U.S. than either Pearl Harbor or the 9/11 attacks. Dem policies, says Nunnelee, are "an attack on our freedom that's coming from the inside."
The far right has been barking for months that Obama is taking away Americans' freedoms, but I've yet to hear a concrete justification for the claim. What freedoms, exactly, have Obama and the Democrats done away with? Could Annelee & Co. be talking about the freedom to make phone calls without the federal government spying on you? No, that would come under the heading of "Bush administration." The freedom to know why you've been arrested? No, that's Bush, too. Hmmm, I give up. Well, I'm sure that Annalee, if he's elected in November, will get together with Virginia Foxx and explain it all to us. I'm sure they'll keep it simple; I mean, what else could they do?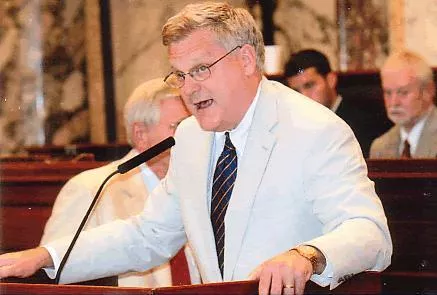 The latest political knothead: Mississippi's Alan Nunnelee