I was going to write here about the "what universe do these people occupy?" situation that popped up in Congress yesterday. We're talking about a meeting of the Senate Homeland Security Committee, in which Republicans defended – note: we are not making this up – Republicans defended terrorists' right to buy guns in America. And no, again, we're not shitting you. Like I said, I was going to write about it, but Gail Collins at the New York Times did a splendid job in her column this morning, so I will simply point you to her well-informed, witty words about the Alice in Wonderlandish world of current GOP thinking.
As long as I'm at it, let me recommend a couple of other great columns. Hal Crowther, king of American essayists (yes, that IMHO) and former CL columnist, penned a classic for the Independent in Durham, regarding the state of American politics, and, specifically, the Tea Party crowd. Favorite quote: "When corporate-sponsored right-wing ideologues castigate 'big government,' that's like ventriloquist Edgar Bergen settling the blame on his dummy Charlie McCarthy."
Finally, Dave Zirin of The Nation wrote a great piece on how the NBA's Phoenix Suns, or "Los Suns of Phoenix," came out in full-fledged opposition to their state's current experiment with anti-immigrant fascism – and how TNT's basketball reporters got behind Los Suns in last night's playoff game broadcast.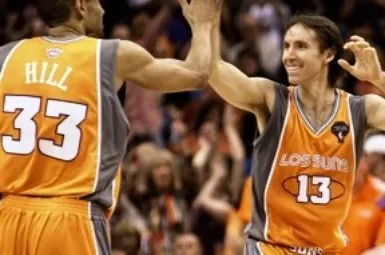 Phoenix Suns' Grant Hill and Steve Nash, wearing "Los Suns" jerseys in support of basic civil rights in Arizona