The Tea Party folks are out in force today, and have been rallying this week in various places, to coincide with Tax Day. We've all seen news coverage of the tea partiers, we've seen their signs, hats, flags, and whatnot, but, really, who are these people? Are they just ordinary Americans who are fed up? Tools of the GOP? Upstanding patriots? Hopeless ignoramuses? A grassroots movement representing mainstream political thought? America's village idiots? A new, extensive poll by CBS News and the New York Times answers some questions about the tea party movement, and presents an interesting picture of its supporters.
Among the general public, 18 percent identified themselves as Tea Party activists or supporters. The Tea Partiers are not representative of the population as a whole, however: they are mostly married white males, over 45, who are wealthier and more conservative than the U.S. norm. Most are Republicans. Read the poll for yourself — it really is an intriguing snapshot of the movement. Meanwhile, here are some interesting excerpts:
• Tea Partiers (TP's) are more likely than the general public (25% - 11%) to think President Obama "favors blacks over whites."
• TP's get most of their news from FoxNews.
• Over half say Obama does not share their values, and his policies "favor the poor" (heaven forbid!).
• TP's are more likely than the public, including Republicans, to think too much has been made of black Americans' problems.
• Thirty percent of TP's believe Obama was not born in America.
• Twenty-four percent of TP's say it is sometimes justified for citizens to take violent action against the government, as opposed to the 16 percent of the general public that thinks so.
• Among TP's, 53 percent think "shows hosted by people like Glenn Beck and Sean Hannity" are primarily real news shows, as opposed to the 24 percent of the general public that thinks so.
• Sarah Palin is viewed favorably by 66 percent of TP's, although half of them say she would not be an effective president. Among the general public, two-thirds say she could not be an effective president.
Finally, a very telling result: 84 percent of Tea Partiers believe that "the views of the people involved in the Tea Party movement generally reflect the views of most Americans." Among the general public, however, only 25 percent think the TP's reflects their views.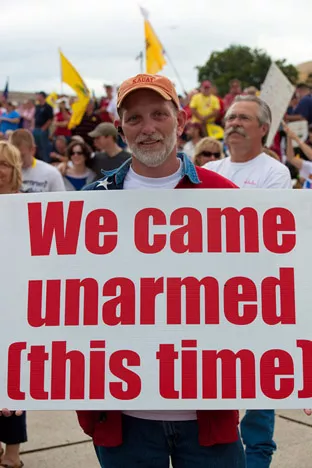 84% of Tea Partiers think they represent the views of everyday Americans