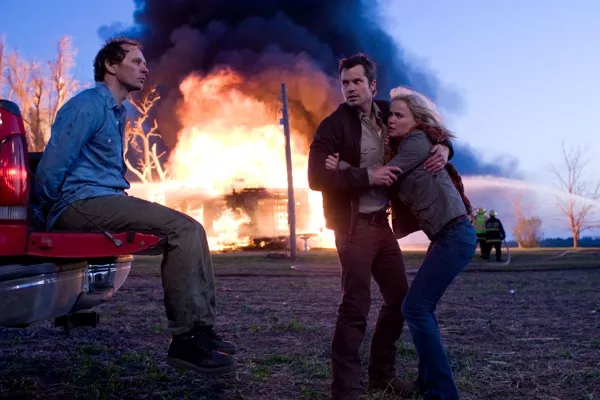 By Matt Brunson
THE CRAZIES (1973)
**1/2
DIRECTED BY George Romero
STARS Lane Carroll, Lloyd Hollar
THE CRAZIES (2010)
**
DIRECTED BY Breck Eisner
STARS Timothy Olyphant, Radha Mitchell
With the new version of The Crazies in wide release, should viewers head to the theater to check it out or mosey toward the DVD store with the intent to rent the original? Given the options, perhaps an alternate plan should be set in motion (maybe a museum, or a nightclub?), but between the pair, it's best to target the couch.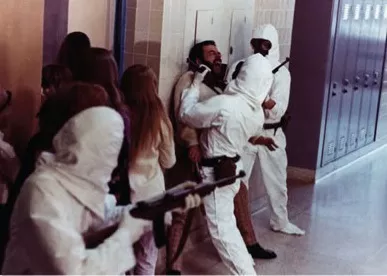 Subsequently re-released as Code Name: Trixie, writer-director George Romero's 1973 version of The Crazies feels like a cross between Michael Crichton's The Andromeda Strain and Romero's own Night of the Living Dead, with plenty of the auteur's sociopolitical observations to juice the proceedings. After a government-sanctioned virus is accidentally unleashed on a small Pennsylvania town and turns many of its inhabitants insane, the military arrives to quarantine the area and contain the threat. But it soon becomes clear that, to the unaffected humans, the incompetent, trigger-happy soldiers are as hazardous to their health as their crazed neighbors. While far from Romero's best, The Crazies is in one way his most frightening film. Being afraid of zombies is natural, but being afraid of our own government should be unimaginable as well as obscene. Yet that was the case during the film's original release — the era of Vietnam and Tricky Dick — and, with the country still struggling after eight years of abhorrent Bush-Cheney shenanigans, that's the case today, lending the film an uneasy topicality.
The new take on The Crazies moves the action from Romero's home state of Pennsylvania to a quiet burg in Iowa, although the basic plot remains the same. The leading characters are the town sheriff (Timothy Olyphant) and his doctor wife (Radha Mitchell), and they're the ones who eventually attempt to lead a small band of survivors out of the infected area, doing their best to sidestep both the local loonies and the marauding military. While this version is more smoothly realized than Romero's choppy original, it's also been streamlined for mass consumption, removing all thorny subtext, avoiding a cruelly ironic conclusion (arguably the high point of the '73 model), and throwing in far too many cheap scares. The use of lowbrow shock effects (i.e. when someone suddenly jumps into the frame, or a loud noise suddenly fills the soundtrack; see The Wolfman for more examples) is a real shame, since the more effective moments suggest that director Breck Eisner could have built genuine suspense had he been given the chance: The sheriff's encounter with an electric medical saw is both hair-raising and humorous, and an attack inside a car wash is effectively staged. More scenes like these would have truly goosed the proceedings, but as it stands, The Crazies is creatively too measured for its own good.