New York state's Attorney General, Andrew Cuomo, is accusing Bank of America, former CEO Ken Lewis and former CFO Joe Price of securities fraud. The New York Times reports that Cuomo has filed a lawsuit accusing BofA and its former honchos of misleading shareholders and the government about the huge losses at Merrill Lynch, in order to gain approval of the bank's merger with ML. The lawsuit was announced around the same time BofA settled a regulatory complaint with the Securities and Exchange Commission. The lawsuit and the SEC complaint are not related, although before announcing the suit, Cuomo had been in settlement negotiations with BofA over the Merrill Lynch problems.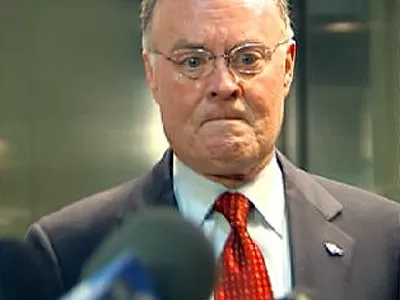 Ken Lewis: He's back, with his butt in the same ol' sling
Those negotiations, obviously, fell through.
BofA spokesman Bob Stickler said the bank, Lewis, and Price "at all times acted in good faith and consistent with their legal and fiduciary obligations," and that "The company and these executives will vigorously defend ourselves."