The Charlotte daily paper today has an insightful op-ed column by my friend Mark West, a UNC Charlotte English professor and former CL contributor, about the arts in Charlotte. Mark sees a revival of the arts here, and of the city through a renewed arts scene, and uses the "Firebird" sculpture at the new Bechtler Museum as a symbol of that revival. Like I said, it's an insightful, and compelling, piece on the arts in the city, and I'll let you read it for yourself.
My point here, as it was in yesterday's CL blog, is about language. I love arts of all kinds, including sculpture, and although I don't have an especially refined visual sense, I'm not an arts dullard, either. But here's the thing: I wish the Bechtler Museum had kept the original title of the sculpture, or at least a more complete translation of it: "Le Grand Oiseau de Feu sur L'Arche," or, "The Great Firebird On an Arch," or just "Great Firebird On Arch." Why? Because then I wouldn't have made the same mistake a lot of Charlotteans who see the sculpture make, that is, thinking it's a rather smallish Firebird on two giant, incredibly bowed legs.
It was interesting to hear comments about "Firebird" while milling around during intermission at the Knight  Theater's Neko Case concert: "It's beautiful, isn't it?" "Uh-huh, but what's up with the gigantic legs?" "I don't know, but I still think it's beautiful." ... "It'd look better without the bowlegs." ... "It must have been made during the '70s — it's wearing elephant bellbottoms." That last comment led a small group to think of nicknames for the sculpture, finally deciding to name it "Disco Chicken," which I admit I thought was pretty funny. Now, though, I feel like a moron since Mark West has clarified things, and explained that the sculpture is a Firebird perched on an arch, which changes things, er, pretty damned significantly. Again, the importance of language is made plain as day: if the original title had been kept, everyone would automatically know it's a bird on a big arch instead of a horribly bowlegged bird, probably now extinct because its wings couldn't lift its giant legs off the ground. Or if not that, then a Disco Chicken.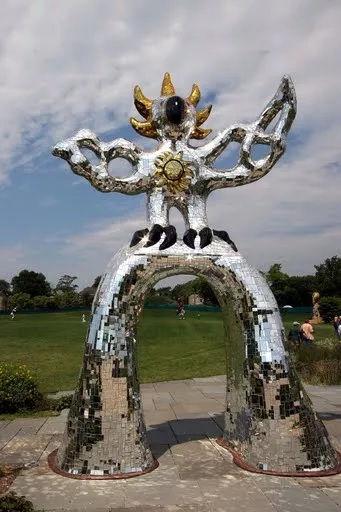 NOT elephant bellbottoms: "Firebird" by Niki de Saint Phalle, in an earlier location. Now, see the arch?