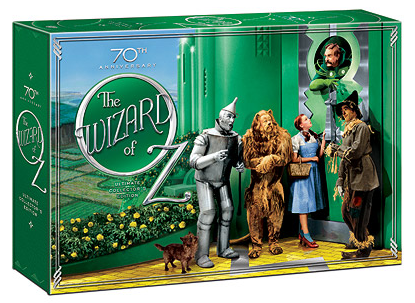 THE WIZARD OF OZ (1939). This family classic long ago left the realm of being mere entertainment to emerge as a cultural touchstone for generations of Americans. The peerless Judy Garland as farm girl Dorothy, proclaiming "there's no place like home"; the Oscar-winning "Over the Rainbow," which topped the American Film Institute's list of the 100 Greatest Movie Songs; the irresistible tag team of The Scarecrow (Ray Bolger), The Tin Man (Jack Haley) and The Cowardly Lion (Bert Lahr); the flying monkeys that have scared the bejesus out of countless kids over the decades; the Munchkins pointing the way down the Yellow Brick Road — it's all here, repackaged by Warner Bros. in a spectacular 70th Anniversary Ultimate Collector's Edition. Back in 2005, I awarded a perfect eight stars (four for the movie, four for the extras) to the three-disc Collector's Edition, wrongly assuming there wasn't any room for improvement. Yet here the studio has upped the ante, bringing back everything from that edition (except, sadly, some of the physical reproductions, such as color stills and the ticket to the 1939 premiere screening) and digging up even more material.
Among the holdovers from the previous set are audio commentary by film historian John Fricke; making-of documentaries; outtakes and deleted scenes; a documentary on Oz creator L. Frank Baum; and earlier screen versions of The Wizard of Oz, including a 1910 production and a 1925 adaptation featuring Oliver Hardy. The new features include the 1990 TV-movie The Dreamer of Oz, starring John Ritter as Baum; a documentary on Victor Fleming, who directed both Oz and Gone with the Wind in the same calendar year; and a featurette on some of the actors who portrayed the Munchkins. Included with this incredible set are a 52-page book featuring photos, studio memos, and more; a campaign book featuring original promo material; and a collectible Wizard of Oz watch created exclusively for this DVD edition.
Movie: ****
Extras: ****
To purchase this Collector's Item, check out its listing on Amazon.com.