From landscapes to still lifes, the realistic oil paintings by Lebanese-born artist Elie Bou Zeidan are captured on canvas. Zeidan, who lived in Paris, France for 17 years, now resides in Charlotte. His current solo exhibition, A French Perspective: Stills and Figures, is being held in Pease Gallery at Central Piedmont Community College through Oct. 21. The exhibition will have it's opening reception on Wed., Oct. 7, from 4 p.m.- 6 p.m.
Creative Loafing: You started painting when you were 13 years old. Is that right?
Elie Bou Zeidan: Exactly. I was in Lebanon. I had an exhibition there when I was 15 years old with some painters and some of them were not so happy because I was so young. I continued painting and met some painters in Lebanon. I began painting with Halim Harb and after I met other painters. I was a fan of Habib Khoury and I also learned from Habib.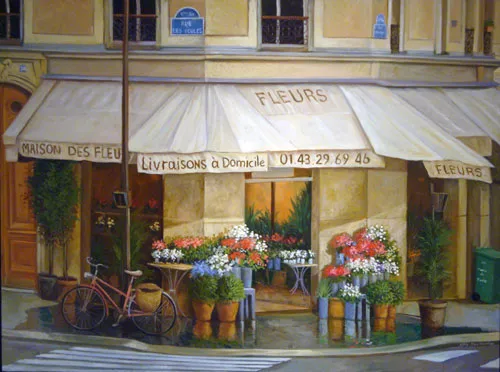 "Mason Des Fleurs" by Elie Bou Zeidan
How did you end up in France and how long did you stay there?
In Lebanon I was a little bit distressed - there was nothing to do. Before that I was planning to go to Italy in 1989. I was enlisted to learn the language for six months, but during first three months the war started again and my plan to go to Italy was done. In 1991, I went to France and I stayed 17 years there.
"Pastique et Pomme" by Elie Bou Zeidan
When you paint your landscape pictures do you have to travel or do you paint off of memory?
Both, it depends on if I have the possibility to go. Now I couldn't go, so I find good pictures or a picture I've already done and work on it, but change the feeling, colors. Sometimes I go and sit and paint if I have the possibility. With still life's, I make the composition.
What are your plans for the future?
I am a student right now at CPCC getting my Masters degree, so I can teach art.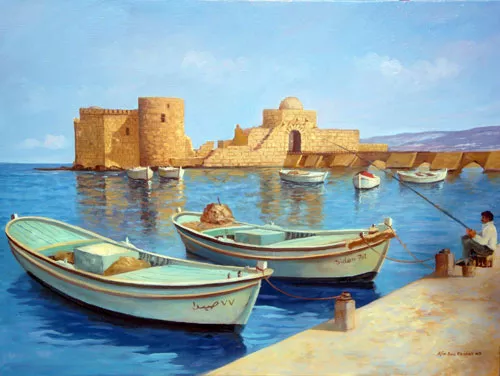 "Summer in Sidon" by Elie Bou Zeidan