While working on another movie-related blog post, I found myself just wasting time taking online quizzes and reading fairly useless compendiums of others' opinions. Here are two I figured I'd share:
The New York Times' Film Studies Quiz (http://www.nytimes.com/interactive/2009/07/26/education/edlife/20090726_Edlife_Quiz.html?ref=edlife) — This is one Internet quiz that's actually pretty tough, and co-authored by a professor at my program. I'd like to explain away my god-awful score on the quiz by saying I never took a course with him, but that doesn't really excuse someone who's getting a Master's in this stuff. Surprisingly, I did best on the Westerns section. If only there had been an homage to MGM musicals …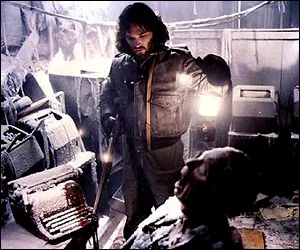 John Carpenter's The Thing, included in Empire's list of great horror movies.
Empire's Salute to Horror Through the Ages (http://www.empireonline.com/features/horror-through-the-decades/default.asp) – A fellow MA student posted this to their Facebook page. Obviously, it's just one person's (or one magazine's), like, opinion, man, about the standout themes and films from the past 50 years of horror, and it's a shame the magazine didn't give movies pre-1950 their due, but this still provided a few minutes of good distraction and food for thought.