Check out these events going down in Charlotte and the surrounding area this weekend— as selected by the folks at Creative Loafing.
FRIDAY, JUNE 5
Uptown along Tryon Street
I hope you're hungry, because it's time to chow down on variety of eats during Taste of Charlotte, held in Uptown Charlotte.
• Theater You can excitedly expect to see zombies singing in performances of Evil Dead: The Musical at Actor's Theatre of Charlotte.
• Art Elder Gallery's new exhibition, titled Studio Selections Volume I opens tonight.
SATURDAY, JUNE 6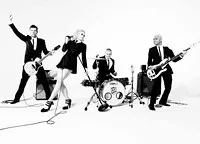 Verizon Wireless Amphitheater
You can't beat this show: No Doubt, Paramore and The Sounds at Verizon Wireless Amphitheatre. It's going to rock!
• Special Event The Main Library's summer film series: The Master of Suspense: Alfred Hitchcock Classics kicks off today. Head to ImaginOn's Wachovia Playhouse for the action-packed North By Northwest.
• Music John Tosco and The Evening Muse are presenting the Beatles Tribute Night, which is set to resemble the popular Tosco Music Party, but with only Beatles covers.
SUNDAY, JUNE 7
Theatre Charlotte
Producer Donna Scott and Theatre Charlotte are present a new satirical production, titled The Fairy Tale Chronicles. The play, directed by Sheila Snow Proctor, will feature new spins on old fairy tales.
• Food Dinner and a movie? You can get both at Mez.
• Music Go Irish at performances of Dancing at Lughnasa at McGlohon Theatre. The play is about six sisters living together in Ireland, told through the memories of a boy they once raised.