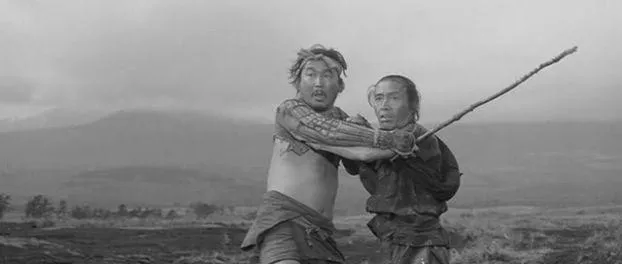 By Adam Frazier
Akira Kurosawa's 1958 film The Hidden Fortress has just about everything a cinephile could ask for. The characters are compelling, the story is simple yet elegantly told, and the visuals are impeccably composed within the frame.
The film begins with two hapless peasants, Tahei and Matashichi, who are fleeing the aftermath of a battle. While trying to make their way home, they encounter General Rokurota Makabe (Toshiro Mifune). The general is trying to transport Princess Yuki, played by Misa Uehara, to safe territory with the remains of her royal family's wealth.
I've only seen a handful of Kurosawa films – masterpieces such as Rashomon and The Seven Samurai – but it's this film that has most intrigued me since first hearing about it in interviews with George Lucas.
George Lucas cites The Hidden Fortress as one of the main inspirations for Star Wars, and after viewing Kurosawa's film, it's easy to see the themes running throughout both films.
In The Hidden Fortress, the story is told from the perspective of society's lowest life forms: peasants. In Star Wars, Lucas shows us the universe he created through the eyes of two servant droids. It's an intriguing way of introducing the viewer to a world outside of their reality and making it familiar at the same time.
The peasants, who are there primarily for comic relief, don't possess the characteristics of what we could consider to be heroes or good guys. They are greedy, selfish and constantly bicker with each other, yet Kurosawa makes them likable to the audience.
The film is fun, exciting and filled with flawless cinematography that extends the landscapes and gives the film a dreamlike quality. The action sequences and sword fights are paced brilliantly and deliver a tension that is sorely lacking in modern movies.
If you're looking for an introduction into Kurosawa's work or you just happen to be a huge Star Wars fan looking for a little insight into the inspiration behind George's epic space opera, then I completely recommend The Hidden Fortress. This is a film that anyone can appreciate.