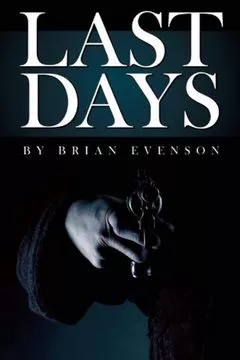 Last Days by Brian Evenson, Underland Press, 256 pages, $11.95
There is vengeance, and then there is holy vengeance. In Last Days, the latest novel from Brian Evenson, the protagonist, Kline, finds this to be true. When Kline finds himself in the midst of a grotesque fanatical sect, he is both pawn and insurgent. With the language and imagery from the noir literary tradition, Evenson paints a morbid story of life at the crossroads of religious fervor and human survival.
Originally published as the novella The Brotherhood of Mutilation, Last Days is an expansion that brings a conclusion to the story of Kline, a detective working deep undercover. You never know exactly what he was doing there, who he was after, you only know about the aftermath: a cleaver brought down, a hand gone, the wound cauterized on a stove top, and a bullet in the head of the gentleman with the cleaver. Told in hindsight, this sequence of events brings Kline into a harrowing chain, when two men start calling, asking Kline to come to them. When he doesn't, they come to him, and drag Kline into a world he could never have imagined, where a peculiar twist on an Old Testament idea reigns paramount.
Religion is a key theme that runs through many of the works Evenson has published, though not in a traditionally inspirational sense. Despite Evenson's background with the Church of Jesus Christ of Latter-Day Saints, his works have been poorly regarded by the church and its community. Following the publication of his first book, the collection of short stories Altman's Tongue, Evenson had some issues at Brigham Young University, where he had earned his BA and was teaching. There is violence inherent in Evenson's work, and this was seen as counter to certain points of his religion. It could be said that his first novel, Father of Lies, was, in part, a reflection of what he had gone through at BYU, and at the same time a deconstruction of the religion.
When it comes down to Last Days, the context of what has come before, in the life and works of Brian Evenson, does weigh on the words and thoughts inside, but one should not go into this book thinking of that alone. The writing inside the book is pared down, every ounce of fat removed, as is the norm in the noir tradition. But Evenson does not give anything away, nor does he telegraph what is going to happen and why. What happens in the end is the sum total of every word to come before, every theme is paid off. Last Days is by no means for every reader, and I would advise against it for those who are squeamish. The violence Evenson first got in trouble for is present in this novel, but there is also a dark humor that will make you laugh during moments when you would never expect yourself to laugh. For those who think they can handle it, Last Days is highly recommended.