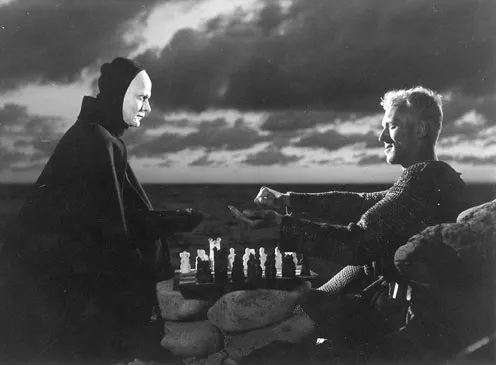 Death and the Knight (Max von Sydow, right) play chess.
Today (Friday, April 10) marks Max von Sydow's 80th birthday, which I will gladly use as an opportunity to once again plug what earns my vote as the greatest foreign-language film ever made (and one of the all-time greats in any language, period). Writer-director Ingmar Bergman's 1957 masterpiece The Seventh Seal stars von Sydow as Antonius Block, a philosophical knight just returning from the Crusades. As both the plague and religious fervor sweep the countryside, Block finds himself seeking answers regarding the very existence of God; all the while, he plays a game of chess against Death, with his own life as the ultimate prize.
One of the most influential movies ever made, The Seventh Seal has inspired filmmakers for generations, with Woody Allen and the Monty Python troupe among those offering their own comedic spins on the material. Its iconic images are many, perhaps none more striking than Death leading a procession of victims along a hillside. And I daresay that, as a youth, perhaps no other film opened my eyes to the wonderful possibilities of cinema as much as The Seventh Seal.
In addition to his acclaimed collaborations with Bergman (as well as other Swedish and international productions), von Sydow has appeared in numerous English-language films. Check him out in The Exorcist, Three Days of the Condor, Hannah and Her Sisters and Minority Report. Feel free to skip him in the wretched Rush Hour 3.