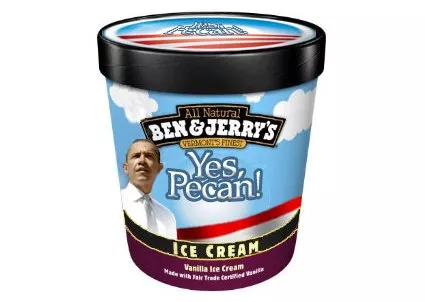 Eat ice cream and support a cause!
Obama's popular campaign slogan "Yes, we can!" has inspired a new ice cream flavor from our buddies Ben & Jerry -- Yes, Pecan. The ice cream flavor is described as: "An Inspirational Blend! Amber Waves of Buttery Ice Cream With Roasted Non-Partisan Pecans." Sounds delicious, no?
When you treat yourself to some Yes, Pecan! in Ben & Jerry's shops during the month of January, they will donate the proceeds to the Common Cause Education Fund.
According to the Ben & Jerry's website:
Common Cause is a nonpartisan, nonprofit advocacy organization founded as a vehicle for citizens to make their voices heard in the political process. They are committed to honest, open and accountable government, as well as encouraging citizen participation in democracy. Their Education Fund conducts research, education, and outreach activities. Check out http://www.commoncause.org to take action.

Find "Yes Pecan" at a Scoop Shop near you