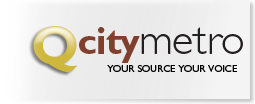 Just ran across this site a few weeks ago and thought I'd share it with you guys: www.qcitymetro.com.
The "About" section of the site describes QCityMetro like this:
We are an independent, locally owned website offering news and information specific to Charlotte's African American community.
Sure, the city has the Charlotte Post, but QCity is a pure Internet play — not a product with a print arm. It was created by the husband-and-wife team of Glenn and Patsy Burkins. Glenn worked as business and deputy managing editor for the Charlotte Observer. Patsy worked as a reporter for The State in Columbia, S.C., amomng other papers.
I guess the big question is can QCity work? There is definitely a market for the site. But with the economy in the toilet, it will be difficult to sell advertising. And, honestly, it's always tougher to sell ads for an African-American-targeted media outlet. I worked for several over the years.
At any rate, check out the site and let the Burkins know what you think.