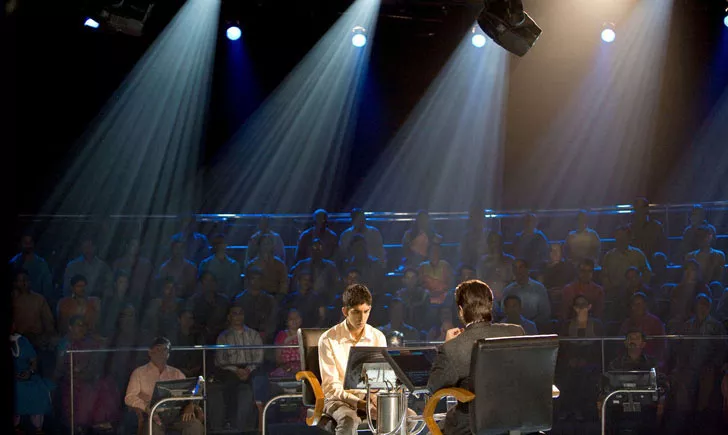 By Matt Brunson
SLUMDOG MILLIONAIRE
DIRECTED BY Danny Boyle
STARS Dev Patel, Freida Pinto
I'm not entirely sure how a film in which a small boy gets permanently blinded by someone deliberately pouring hot liquid onto his eyeballs while he's unconscious ends up being hyped (by critics and audiences alike) as the "feel-good" movie of the year, but that's the strange case with Slumdog Millionaire, the latest from director Danny Boyle (Trainspotting).
The modern-day sequences find lanky, likable Jamal (Dev Patel) working his way through the questions on India's version of Who Wants to Be a Millionaire? Jamal is a struggling kid who's coped with poverty all of his life -- a "slumdog" -- and it's his unlikely ascension that has the entire nation rooting for him to win it all. But Jamal isn't doing this for money; he's doing it for love -- namely, for the beautiful Latika (Freida Pinto), who, as we see in the film's ample flashbacks, grew up on the streets alongside Jamal and his hotheaded brother Salim (Madhur Mittal).
Initially, the movie's structure is ingenious in how it feeds on incidents from Jamal's past to allow him to get the right answers on the TV game show, in effect suggesting that what's most important in this life is what we learn firsthand. As for the sequences revolving around the characters' rough childhoods, they're refreshingly raw and uncompromising, a cross between Charles Dickens and City of God. It's a shame, then, that Boyle and scripter Simon Beaufoy (The Full Monty, and no surprise there) toss aside all innovation in order to bind the final half-hour into a straightjacket of rigid formula plotting. The boy-finds-girl, boy-loses-girl, boy-tries-to-save-girl angle is flaccid enough, although it's the arc involving bad bro Salim that's especially groan-worthy.
Still, three-quarters of a stellar movie is nothing to sneer at, meaning that those who take a chance on Slumdog Millionaire will get their money's worth.