Give the ol' vodka cranberry the heave-ho -- it's time to get festive with these cocktails.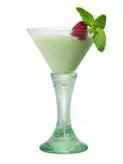 MIDORI Holiday Hopper
1 oz. Midori
1 oz. Green Creme de Menthe
1 oz White Creme de Cacao
1 oz. Heavy Cream.
Shake and strain into a cocktail glass.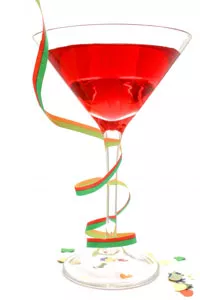 Christmas Cosmopolitan
1/2 oz. Cointreau
1/2 oz. cranberry juice
1 tsp. lime juice fresh
1 oz. vodka
Place all ingredients in a shaker with ice. Shake and strain into a chilled martini glass.
Option: To garnish, float a few frozen cranberries after pouring.
Candy Cane
1/2 oz. Cinnamon Schnapps
1/2 oz. Peppermint Schnapps
Optional: add green food coloring
Combine in a mixing glass with ice. Stir gently and strain in to a shot glass. Garnish with a mini candy cane.
For a party you can make a pitcher of these by combining a 375 ml bottle of each.
Chill the mixture on ice.
Serve in chilled shot glasses.
Spiked Cocoa
1 cup milk
1 tsp. hot chocolate mix
1 tsp. coffee creamer
1 tsp. bourbon
Heat a cup of milk to steaming. Remove from heat before bubbles begin to form around edge of saucepan. Measure chocolate mix, coffee creamer and bourbon into a mug. Add hot milk; stir until well mixed.