If you've ever wanted to ride home with Creative Loafing's Tara Servatius, you'll have your chance starting Monday. Granted, you can't go home with her, but she's taking over as the afternoon shift at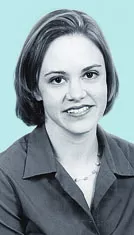 Servatius, who pens the Citizen Servatius column for CL, has been the host of her own show on WBT from 9 p.m. to 12 a.m. "It will be the same show I did at night, just during the daytime hours," she said. "I'm really excited about it. It's going to be great to talk to the drive time audience."
While she thinks the nighttime audience is just as great as the drive-time one, she said listeners are going to benefit from her new slot. "I'm a lot more awake during day time hours," she joked.
With more people listening during the day, Servatius will have a chance to enlighten people on the issues by adding a little more depth. Servatius said she combines discussion with her journalism background then gives it to the public. "On the show we dig deeper into issues than the traditional radio talk show format, which is usually about discussing issues," she said.
The move to drive-time came after the firing of Jeff Katz, who was let go after two years. Station managers have described it as a business decision. Katz, who CL named as one of Charlotte's scariest people in a tongue-in-cheek October article, has been a controversial figure in Charlotte and other markets.
Katz and Servatius are different in their views. While Katz was ultra-conservative, Servatius considers herself more of a libertarian. "Its really hard to compare the two of us, we have totally different styles," she said.
She acknowledged that Katz had a lot of fans. "I know a lot of people out there loved Jeff. He had a lot of fans," she said. "I'm just hoping they give me a shot."
Catch The Tara Servatius Show Monday at 3 p.m. on WBT 1110 AM or 99.3 FM.