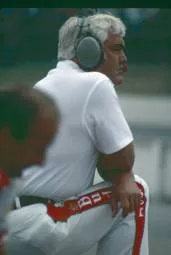 Barack Obama is continuing to get support from some surprising folks. Junior Johnson, the NASCAR legend, has come out in support of Obama, signing an e-mail that went out to supporters today. Johnson's personal politics aside, NASCAR is so often depicted as a reliably conservative support that I was surprised to hear Johnson would sign off on a statement like this:
My family and I have given this election a lot of thought.

Our country is in a rough spot, and we're going to need some serious change. There's only one candidate ready to deliver it -- and that's Barack Obama.

Every day I talk to someone else who's never voted for a Democrat, but now they're voting for Barack Obama. They realize that Barack understands what we're going through here in North Carolina. And they're ready for change.

So I've made up my mind, and I'm ready to get involved. I know that I could never have won a race without my pit crew, and I know Barack can't win this one without us.
Much less this:
I know what it means to run an aggressive race, but I also know what it means to compete with integrity. Have you gotten one of these pre-recorded calls that are flooding our state smearing Barack Obama's character and questioning his patriotism? That's crossing the line, and North Carolinians deserve better.