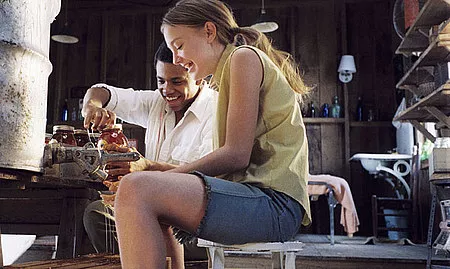 A Life worth exploring
By Matt Brunson
THE SECRET LIFE OF BEES
DIRECTED BY Gina Prince-Bythewood
STARS Dakota Fanning, Queen Latifah
Writer-director Gina Prince-Bythewood cut her teeth in television before making her theatrical debut with 2000's award-winning Love & Basketball, an exquisite love story that should have opened the Hollywood floodgates for the enterprising auteur. Yet for whatever reason, Prince-Bythewood has spent the past eight years back in TV Land (gigs include directing an episode apiece of Everybody Hates Chris and The Bernie Mac Show), only resurfacing now to tackle this adaptation of Sue Monk Kidd's best-selling novel. Given that her filmmaking chops are still intact, let's hope we don't have to wait another eight years for her next project.
The Secret Life of Bees is the sort of Southern-spun, honey-soaked confection that, in the wrong hands, could have turned out dreadful. Yet Prince-Bythewood largely stays away from grandiloquent gestures designed to manipulate audience emotions, relying instead on sound storytelling and a set of accomplished performers to punch across the story's humanist appeal. The only cringe-worthy moments involve an out-of-left-field suicide, yet I defy any director to make that scenario (as presented in the context of this tale) work.
Set in 1964 South Carolina, the story centers on young Lily Owens (Dakota Fanning), who's haunted by memories of her late mother (Hilarie Burton) and ill-treated by her unfeeling father (Paul Bettany). Hoping to learn more about a mom she barely remembers, she runs away from home, dragging her caregiver Rosaleen (Jennifer Hudson) along with her. She heads to a town where she knows her mother once stayed, and, upon arrival, she and Rosaleen end up taking shelter in the home of the Boatwright sisters: patient August (Queen Latifah), suspicious June (Alicia Keys) and sentient (if simple-minded) May (Sophie Okonedo). There, Lily not only finds the answers she seeks but also the family she never had.
It's only been two years since I last saw Fanning (in Charlotte's Web), yet she seems to have passed that vaguely defined mark between adorable moppet and self-assured teen. No longer able to count on the safety net of precociousness (not that she ever really did), the 14-year-old is expected to deliver a full-bodied performance here, and she handles the task like a seasoned pro. Her co-stars prove to be equally memorable, and it's especially nice to see Hudson handed a role somewhat more substantial than the discarded-tissue part she had in Sex and the City.