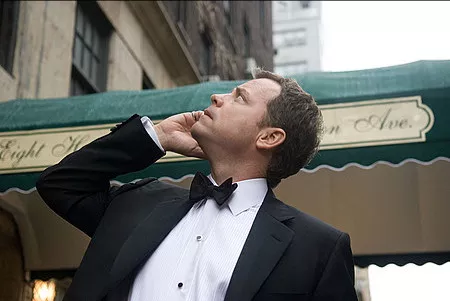 WHAT'S UP: Frank (Greg Kinnear) soon discovers that heaven can wait in Ghost Town.
By Matt Brunson
GHOST TOWN
DIRECTED BY David Koepp
STARS Ricky Gervais, Tea Leoni
Given the dearth of quality romantic comedies produced by the major studios — these days, it's up to the independent outfits to provide them (tag In Search of a Midnight Kiss as Exhibit A) — it's a pleasant surprise to discover that Ghost Town manages to buck the odds.
Certainly, the high-concept storyline makes it sound as dreary as a Kate Hudson vehicle. (Speaking of which, Hudson's own rom-com, My Best Friend's Girl, opens the same day as Ghost Town, but without the benefit of advance critics' screenings.) Bertram Pincus (Ricky Gervais), a dour dentist who avoids interacting with people at all costs, suddenly finds himself surrounded by dead people. That's because he himself died for seven minutes while undergoing a routine colonoscopy, and this established an open line of communication with restless ghosts still hovering around Manhattan. Chief among them is Frank Herlihy (Greg Kinnear), who demands that Bertram prevent his widow Gwen (Tea Leoni) from marrying a human rights lawyer (Billy Campbell).
Ghost Town is given a significant boost by the presence of Gervais, whose caustic wit and no-nonsense demeanor provide the picture with more of an edge than it would have received with a more conventional leading man at the helm. But the picture surprises in other ways as well, thanks to unexpected tweaks in the script co-written by John Kamps and director David Koepp (best known for penning such blockbusters as Jurassic Park, Spider-Man and the latest Indiana Jones installment). Kinnear's ethereal hubby isn't exactly the dashing nice guy he initially seems, while the emotionally torn widow played by Leoni (who really needs to appear in more movies) isn't just a pawn to be moved around by the three men in her life but instead takes control of the situations presented before her.
Charming and unassuming, Ghost Town offers enough in the way of laughs to raise anyone's spirits.