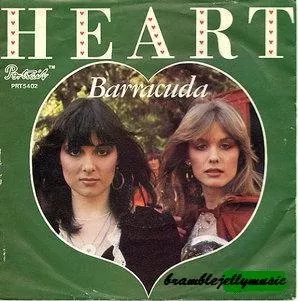 The women behind the song "Barracuda" are broken hearted over the use of their song by the RNC.
Republican Vice Presidential candidate Sarah Palin claims the nickname "Barracuda," which inspired the use of the Heart song during Palin's speech at the RNC on Wednesday night.
Heart issued this statement on Thursday: "The Republican campaign did not ask for permission to use the song, nor would they have been granted that permission. We have asked the Republican campaign publicly not to use our music. We hope our wishes will be honored."
Heart member Nancy Wilson went on to send an angry letter to Entertainment Weekly: "I feel completely fucked over."
"Sarah Palin's views and values in NO WAY represent us as American women. We ask that our song 'Barracuda' no longer be used to promote her image. The song 'Barracuda' was written in the late 70s as a scathing rant against the soulless, corporate nature of the music business, particularly for women. (The 'barracuda' represented the business.) While Heart did not and would not authorize the use of their song at the RNC, there's irony in Republican strategists' choice to make use of it there."