Anna Faris elevates threadbare comedy
By Matt Brunson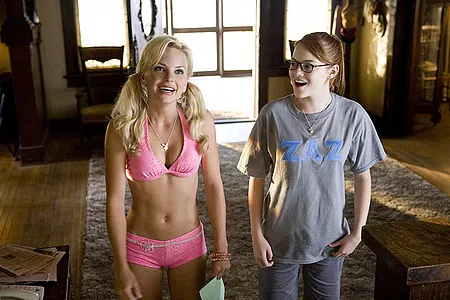 THE HOUSE BUNNY
DIRECTED BY Fred Wolf
STARS Anna Faris, Colin Hanks
According to the Internet Movie Database, Playboy founder Hugh Hefner has appeared as himself (or a variation thereof) in over 150 movies, TV shows and video productions, including episodes of Laverne & Shirley, The Fresh Prince of Bel-Air, and Sex and the City. Presumably, Hefner enjoys lengthier screen time in the new comedy The House Bunny, although personally I don't think he'll ever top his cameo in the Roman Empire segment of Mel Brooks' History of the World: Part I, wherein he sports a toga while brandishing his trademark pipe and explaining to a bevy of beauties that "It's a new concept; I call it the centerfold."
In The House Bunny, the 82-year-old Hef serves as a father figure of sorts to Shelley Darlingson (Anna Faris), a Playboy Bunny who lives at his legendary mansion and dreams of becoming the magazine's next centerfold. But right after her 27th birthday (59 in Bunny years, she's told), she's kicked out of the house, although it's not long before she finds herself with a new gig: serving as a house mother to the socially awkward girls from the Zeta Alpha Zeta sorority. Soon, she's instructing them on how to attract boys and pledges while they're teaching her how to depend on more than just her looks.
The House Bunny was co-written by the same women (Karen McCullah Lutz and Kirsten Smith) who penned Legally Blonde, and it's safe to say that their roots are showing. This is basically an inferior version of that Reese Witherspoon hit, and it isn't even up to the standards of last year's similarly plotted Amanda Bynes comedy Sydney White. But Faris, a talented comedienne, strikes the proper airhead notes, and Lutz and Smith take care to feed her some funny lines now and then.
Incidentally, Hefner was 27 - the same age as Shelley in the movie - when the first issue of Playboy (featuring Marilyn Monroe as the centerfold) hit the streets. Apparently, 27 is 59 in Bunny years, but, considering the man's still-swinging ways, 82 is 27 in Hef years.