Friday, July 11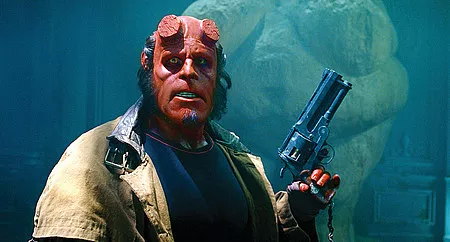 Film
Hellboy II: The Golden Army: Give someone hell this weekend – Hellboy, that is! The sequel to 2003's Hellboy is in theaters now, helmed by the director who brought us Pan's Labyrinth, Guillermo del Toro. Pan's influence is certain: The monsters here look like something out of a feverous dream, all teeth and limbs and goo. Don't worry though; a big red demon is here to protect us from the creepie-crawlies. Ron Pearlman acts his way through the heavy makeup, Selma Blair is on fire -- literally -- and there's a Golden Army to fight. (Not the same as a golden shower, so R. Kelly will be disappointed.) Local theaters. www.charlotte.creativeloafing.com/gyrobase/Film.
Find more in Film.
Music
The New Familiars: What better way to give something back to your fans than to offer up a free show? TNF are doing just that. They recently released a vinyl single with a stunning cover of "My Girl" and their infectious Americana will get your feet moving in no time. Get there early; these guys have a dedicated fanbase. With American Aquarium and Horse Ghost. The Neighborhood Theatre. www.neighborhoodtheatre.com. Find more in Music.
Arts
The Perfect Murder?: A suspenseful play filled with murder, mystery, deception and surprising twists, Dial "M" for Murder will showcase at CPCC's Pease Auditorium. The play tells the story of a marriage gone bad along with plans for a perfect murder, which backfires. Make time to see Frederick Knott's summer thrill, which later inspired Alfred Hitchcock's own film classic Dial "M" for Murder. $17-$21. CPCC Main Campus. www.arts.cpcc.edu. Find more in Arts.
Food
Harper's Blue Ribbon Diner: A table service house-made Southern breakfast, skillet friend chicken and pimento cheese at lunch draws the downtown crowd to this Carolina meat and two diner with specials set on a weekly rotation. Open Monday through Friday from 7 a.m. until 9 p.m. 121 West Trade St. 704-371-8774.
Find more in Food.
Saturday, July 12
Film
Opening this week: Journey To The Center Of The Earth: 3-D, Meet Dave, and Savage Grace. Visit your favorite theater and be one of the first in Charlotte to catch these flicks. Local theaters. www.charlotte.creativeloafing.com/gyrobase/Film. Find more in Film.
Music
Glen Phillips: Vocalist and multi-instrumentalist Phillips, once known as the frontman for alterna-popsters Toad the Wet Sprocket, has been releasing finely honed solo records ever since his day-band broke up back in 1998. Phillips' writing and playing are continually evolving into better and better compositions. Sprocket may have been written off as alterna light, but Phillips is certainly no hack or has been. His new recording is Secrets of the New Explorers. With Antje Duvekot. The Evening Muse. www.theeveningmuse.com. Find more in Music.
Arts
What's your frequency?: What to do with your Saturday night? Why not take a walk on the darker side as local fetish promoters Single Cell Productions (known for their erotica/bondage shows at Purgatory) whip out Nocturnal Frequencies Alternative Arts and Music Festival. It's set to feature live music (from industrial, synth-pop, darkwave and ebm) from Angels on Acid, Filth on Demand, Echostream and other bands, as well as the best mixes and spins by a hand full of DJs who specialize in this underground music scene. If that isn't enough, the fest will feature performances (a bunch of half-naked goths) and fetish and fantasy art/photography. It all strays from the average and you might think its Halloween (if you're a first-timer) at this mesmerizing spectacle that forces you to embrace the devil within. $20-$25. 6 p.m. Amos' Southend. www.singlecell.us. Find more in Arts.
Food
Beer, Bourbon & BBQ Festival: In its second year this fest brings the beer sippin', bourbon tastin', music listenin', cigar smokin', and barbecue eatin' folks together for good times. Those attending can enjoy over 60 brews and over 40 bourbons along with barbecue tastings. Music will be provided by Gael Warning, Robin Rogers Band and Part Time Blues Band and there will also be a tasting theater with experts discussing bourbon history, proper pairings and brewing. $15-$40; Free for children 12 and under. 2 p.m.-6 p.m. Symphony Park at SouthPark Mall. www.beerandbourbon.com. Find more in Food.
Sunday, July 13
Film
Wild Wild West: The Main Library's annual Summer Film Series is back, this time riding tall in the saddle. This year's program is Once Upon a Time in the West: Great Hollywood* Westerns (* and one Italian), offering 11 oaters over the course of nine Sundays. This week's installment is Once Upon a Time In the West. Sergio Leone's legendary 1968 opus had to suffer its share of fools upon its initial stateside release (and it certainly didn't help that the studio chopped 25 minutes out of its 165-minute length), but the picture has stood the test of time so well that it's now rightly regarded as one of the greatest of all screen Westerns. Eventually restored to its original length, it remains notable for a number of achievements, including the casting of Hollywood hero Henry Fonda as a cold-blooded killer, the film's ability to serve as an elegy for both the passing of the Old West and the passing of the Western (which would fall out of favor with audiences over the ensuing decade), and the masterful way in which the visuals match up beautifully with Ennio Morricone's exceptional score (indeed, Morricone composed his music before Leone began filming). Claudia Cardinale, so popular at the time that she receives top billing, plays a reformed prostitute whose attempt at a new life is hampered by the machinations of hired gunman Fonda; also figuring into the action are the gabby, good-natured outlaw Cheyenne (Jason Robards) and The Man (Charles Bronson, in the role that made him a superstar in Europe), a taciturn cowboy who lets his harmonica and pistol do most of his talking. Free. 2 p.m. ImaginOn, www.plcmc.org. Find more in Film.
Music
Amy Steinberg: Pura Vida hosts an afternoon concert perfect for your Sunday. What could be better than a café latte, free music, and an afternoon off of work? Of the entertainment, Rocco of Pro Star Studios says, "To attempt to describe Amy Steinberg adequately is a fairly hopeless task. She is, simply put, a force of nature--spiritual, sexual, social, ethereal, earthy, and emblematic." And Rag Magazine calls her songs "memorable … brimming with irresistible choruses and thought-provoking lyrics." See for yourself what the buzz is about and show up early to have your coffee ready. From 2 p.m. – 3:30 p.m. Pura Vida. www.puravidaart.com. Find more in Music.
Arts
Richard III: It's "off with his head," and on with the show, as Shakespeare Carolina brings their annual Queen City Shakespeare Festival, (nominated last year by Creative Loafing as Theater Event Of The Year) to Theatre Charlotte. Kicking off with the comical Twelfth Night, they're now delving into a more poisonous atmospheric play setting with Richard III, an earlier craft by Shakespeare that points to history (accuracy is debated) and themes of free will/fatalism in this tale of mayhem. At his brother's coronation, Richard III, who is hungry for kingship and power, begins his descent into madness and murder. The villainous, anti-hero gets his taste of tyranny with a grim defeat by Henry Tudor, Earl of Richmond, proving that sometimes that saying, "What goes around comes around," really does apply. $10-$15. Theatre Charlotte. www.carolinatix.org. Find more in Arts.
Food
Queen's Feast 2008: Always wanted to dine in an upscale restaurant, but shied away because of the prices? If so, then now is the perfect time to treat yourself as Queen's Feast 2008 features 42 upscale Charlotte and surrounding area restaurants (Think: Carpe Diem, Ratcliffe on the Green, The Melting Pot, Oceanaire Seafood Room and a bunch more) offering prix fixe, three-course dinners for $30 per person. Various locations. www.charlotterestaurentweek.com. Find more in Food.