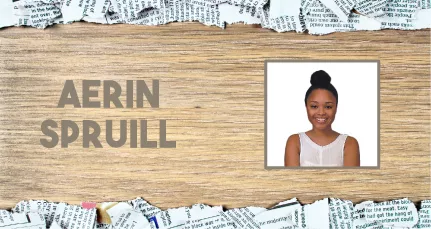 When's the last time you've heard a song that reminded you of your past: a high school dance party, a drive with your best friend or a family member, an ex-girlfriend or boyfriend? Whatever the case may be, music has a way of transporting you back to specific moments that are nostalgic.
That's what I felt when a friend from high school hit me up last weekend asking if I wanted to go to see Sammie. You may not recognize the name given the fact that he was a kid when he came out with one of my favorite #throwback songs, "I Like It." But he was a great example of a heartthrob who young girls pined for as he danced around in his music video. (Google it.)
However, like many child stars, he fell off. Maybe he produced an album or two (last one being "Coming of Age" in 2017) but let's be real, it's hard to come back from who you were and your clout years (maybe even decades) later — especially when you made your bucks as a child star. For the record, it was my friend's birthday and I'd just sent her a text about how I missed her. What choice did I have other than to rally and make it happen. Now for a little background.
When she texted me asking me if I wanted to go, she said:
"So. Minor update. I've found out Sammie (the singer) told me (yes he told ME) he's gonna be at morehead tavern tmrw [sic] night and he said I can hit him up if i come out. I love his music and it'd be dope to meet him. Wanna do that with me? After I do dinner with my family i can head up there if you're down."
Of course, as a friend first and then nightlife writer, my response was, "Lmaooo shut up!!! Howww?" And naturally, she left me hanging and didn't acknowledge why she was communicating with him in anyway shape or form at all. Now I'm certainly interested, even though I'm a prehistoric fan of Sammie.
I clicked the link to the event she sent, and that's when I saw the "event," whatever it was going to be, was at Morehead Tavern. And then I asked myself the question, "As a nightlife writer, WHY don't I know about this venue, or why haven't I been?" At that point, I was feeling inferior. I started Googling where it was with my boyfriend and while the name was familiar, we couldn't place it. *insert nervous vibe*
By the time I convinced her to come to my favorite watering hole, all of my inhibitions had dissipated. We hopped in an Uber after a drink and headed to Morehead Tavern. We walked into the main entrance (which is on the top floor for those who don't know) to an empty bar and we were directed to go back outside and hang a right. *confused*
We walked by a long line of cars, entered a different entryway and then we were standing in front of a window showing our tickets. All I was thinking was, "I'm worried about my white girlfriend being here with just me." I remembered telling the people checking us in, "We've had a couple drinks, but don't let shit pop off and kick us out." They laughed and then she popped her head back in and said, "Yeah, I'm the only splash of vanilla here." *crying laughing emoji* She knew I was running my mouth about that specific topic lol. Damn, that's why I love that girl.
We entered what felt like a small waiting area that was connected to a room with a small bar where we grabbed a drink. Then we walked into the main downstairs area. It was quite spacious compared to the upstairs space, and based on the number of people standing patiently around the stage, it was clear that we were finally in the right place.
It's been a while since we'd seen one another so we caught each other up (and drunk cried) on the events that'd passed while we waited, for what felt like an eternity, on Sammie to walk onto the stage.
When he did, he was accompanied by an entourage *insert eye roll.* My friend turned to me and asked if she should try to go on stage after a few minutes and while I was worried her story about him messaging her wasn't going to get her a pass, I remembered my good old days of nonchalance and minimal inhibitions, "You know what? Go for it. The worst that can happen is he'll act like he doesn't know you. And I'll be here if he does. Just please say excuse me."
And don't you know...he let her on stage?! What. A. Riot. Childhood dreams, met "hoodrat 'tings'" in 2018. He didn't end up performing the "only" song I cared about (at least while I was there, in the hours preceding getting caught up on the tour bus) but to see my girl's face light up on her birthday after meeting Sammie was well worth the new experience.