About 10 years ago, Asha Sims' life took a turn for the worse. Her relationship with her husband and business partner was falling apart. As a licensed professional counselor, she was familiar with the signs, but she didn't want to recognize them in her own case: She was in a denial about her abusive relationship.
Today, Sims is a model of strength for her clients and she feels firmly rooted in herself. She overcame the rocky end of her marriage and endured for some time with little to no income. For her, the source of her strength did not lie in talk therapy. Instead, she attributes her success to energy work.
"You can put on my tombstone: The woman I am today is due to energy work," Sims says. "It gave me a sense of empowerment."
Energy work refers to practices that are believed to promote spiritual health. For example, Sims' entry into energy work came from Reiki. Typically a client will lie on her back while a licensed Reiki practitioner, or Reiki master, lays her hands over key organs to promote spiritual balance. Another hallmark of energy work is the use of crystals, which are said to channel specific energies into the user's life in order to heal sickness or maintain spiritual wellness.
Pinterest named energy work the No. 1 wellness trend of 2017, based on how many times the topic was pinned. As with much in the spiritual realm, there is little to no scientific evidence to support the effectiveness of energy work, but many practitioners and users cite extraordinary results.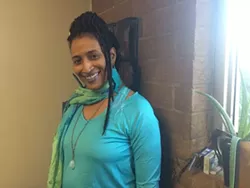 To the skeptics, Sims says that holistic spiritual healing is a partnership and that her clients seek her out. Her goal is not to convert doubters, but to help those who come to her. Many of those clients are women experiencing problems in their relationships or sex lives. Sims believes identifying and overcoming sexual hang-ups, especially in women, is essential to living a spiritually balanced and rooted life.
"We lose our sexual energy, which is our creative life force. Our wombs are what bring life into the world," Sims says.
To determine whether your sex life is where it's supposed to be, Sims recommends nothing more than a simple glance at your feet.
"When you're dating, you want to make sure your feet are not dry, crusty, toenail polish peeling," Sims says. "Those are things I started doing for myself to build that sexual energy back up within me."
If your feet are looking a little worse for wear and your sex life is suffering too, Sims suggests reconnecting with your more sensual self: Take relaxing baths. Uncork a bottle of wine and treat yourself as though you were heading out on a first date. Get into the practice of applying oils and, in the process, appreciating your body. (And don't neglect your feet!)
In addition to practical at-home advice, Sims offers a whole range of services to assist in unlocking the positive energy that she believes comes from harmony and comfort in your sex life. In addition to being a Reiki master, Sims is also a certified Yoni advocate. Yoni eggs are carved stones designed to be worn inside the vagina. She also provides womb saunas, which involve applying steam to the vagina and uterus.
Sims' sensual yoga classes are designed to open hips, strengthen pelvic floor muscles and unlock sexual energy. At first, attendees are skeptical, but by the end of the class, her students are dancing and gyrating as the room pulses with sexual energy. Sims says that sometimes it's too much for her to deal with, and she hopes her clients go home and channel that energy — with a partner or alone.
Before the turning point that changed her life, Sims never imagined herself as the orgasm lady or the Yoni egg lady. But she's also not entirely surprised. She's always loved sex, she says, so she made it her profession. She believes that healthy sexuality leads to an increased capacity for love, creativity and healthy pursuits. "The more healthy orgasms, we don't have time to hate. It's all about love and expression and learning the value of sexual intimacy," she says.
Sims worldview has her won her fans on Facebook, where she regularly posts about sexuality and provides her followers with a forum to talk about sex in ways that they might not be able to otherwise. Whether or not her spiritual healing practice is the best approach for you, her advocacy for healthy sexuality and her efforts to build communication and community around healthy sexuality benefit us all.
Recently, Sims' 6-year-old son wanted to show her a magic trick. She didn't know what to expect. At the end of the trick, he made the big reveal with a flourish.
"It's a ... Yoni egg!"
Sims cracked up. Her son won't know for a while what a Yoni egg is. But plenty of her clients know, and, based on the glowing testimonials on Sims' website, I think they would agree that they can be magical.