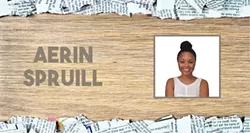 It's that time of year again. The cold weather and premature nightfall are exacerbating your seasonal depression. The Christmas decorations and miscellaneous holiday tchotchkes you've been eyeing for weeks can finally find places to live around your home. And you've already started coming up with new resolutions for 2018 because you've haven't checked a single one off of your 2017 list. Trust me, you're not the only one.
For a couple weeks, I've been throwing side-eyes at friends and social media acquaintances who've been posting pictures of their Christmas tree prior to Thanksgiving. "Since when did people start putting up Christmas decorations before Turkey Day? And who told her that her Charlie Brown Christmas tree was cute?" I've asked a few of my friends. They rolled their eyes in response because they knew I was just sippin' on some holiday haterade.
And they were right, as soon as I returned to the Queen after spending time with family, I started planning out when I'd put up my trees. Yes, you read that right, I'm putting up multiple trees this year, two artificial and one real one. I've even been trying to figure out if I have room for garland. Who am I?!
Nevertheless, each year I try to compile a list of a few things to do in or around Charlotte during the holiday season and share it with my readers. Why break tradition this year? Here are a few things on my holiday bucket list this year:
Plan a friendsgivemas party. Maybe you missed out on friendsgiving. Maybe you want a good excuse to continue the torturous tradition of White Elephant Gift Exchange. Whatever your excuse, the month in between your next paid holiday is the perfect time to gather your friends and family for a friendsgivemas party. Think outside of the box. Instead of hosting a dinner party, coordinate a silent disco or take over your favorite watering hole.
Get lit with your coworkers. If you work a 9-to-5, you know that the holiday office party is one of the most highly anticipated events of the year. I mean, they even make movies about them! Don't be a Grinch and turn down free booze at some of the best venues in Charlotte. Lightly mingle with the higher-ups then sit back and enjoy the shitshow that the majority of your coworkers will become.
Embarrass yourself on ice skates. There's plenty of places to test out your ice skating skills around this time in the Q.C. But Holiday On Ice, Charlotte's outdoor ice skating rink Uptown screams #Charlottean! Grab your boo thang or a group of friends and head over to the NASCAR Hall of Fame Plaza until January 7th!
Sign up for a bar crawl, run or volunteer work. "One of my biggest fears is that I'll marry into a family that runs 5Ks on holidays," reads a meme that I recently saw, and immediately co-signed after my third trip to the kitchen on Thanksgiving Day. However, maybe you're one of the healthy/give-back-to-the-community types and running is your thing. Well, there's good news, you'll find plenty of runs, trots, walks and volunteer opportunities in the Queen City during the holiday season. But for those who prefer to exercise their palates, there's plenty of Santa and Christmas-themed bar crawls to go around, too.
Feast your eyes on 3,000,000 Christmas lights. Even though I have every intention of going to Speedway Christmas every year, I never seem to make it. But this year I've got to do it! If taking a ride through millions of Christmas lights doesn't put me in the holiday spirit, I don't know what will. Pack up your car any night of the week and head to the Charlotte Motor Speedway for a light show that will rival your wildest dreams.
Hop on the brewery train. You know how it is in Charlotte. You bring one unique concept to the nightlife scene and next thing you know, there's 1,000 more just like it. Well, it's not the worst idea when it comes to our obsession with breweries. There's so many popping up all over the city, that it's hard to keep up. Finally stop by Plaza Midwood's latest addition, Resident Culture, and cozy up to a pint, or three. Then make a point to visit a new brewery each weekend in December. There's nothing like exploring new spots in your city to put your seasonal depression at ease.