About a year ago, a woman posted a now-infamous video demonstrating her favorite tip for giving good blowjobs.
In it, she sliced the ends off of a grapefruit, cut a hole in the center of the remaining section, and demonstrated how she used the fruit in combination with her mouth on a lucky fellatio recipient. What impressed the masses about this video was not only the grapefruit strategy but also the sounds she made while demonstrating her technique. That "Wait, what?" moment reminds us how little we know about the sex lives of our fellow regular people — meaning, not porn stars.
We wonder: Do people really do that? How many people really make noises like that? Do people really enjoy this or that? How many of my coworkers enjoy transgressive sex? Am I normal?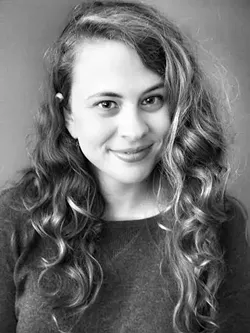 One thing that's pretty normal and unites sex aficionados up and down the Kinsey scale is oral sex. The National Survey of Sexual Health and Behavior, conducted in 2009, found that more than 50 percent of men and women between the ages of 18 and 49 had received oral during the previous year. Oral sex seems most popular among respondents between the ages of 25 and 29 — 77 percent of men and 72 percent of women in that age group reported getting head in the previous year.
Despite its popularity among my fellow millennials, it's obviously nothing new or trendy, nor was it some sort of fad in the 1970s when the enormously popular movie Deep Throat was released. (The plot, yet another example of the genius and creativity of the American male mind, centers around a woman who can only orgasm via performing oral sex.)
Fellatio and cunnilingus have a long history. Ancient art found in Europe, Asia and South America depict oral sex. In the Middle Ages, people were still getting freaky despite the strictures against non-traditional sex of any kind. In Ireland, according to a history of oral sex on Mic.com, a medieval penitential document prescribed four years of penance for cunnilingus and five for fellatio.
Its popularity has continued apace. For women — who are on the wrong side of the orgasm gender gap — there's a good reason to like cunnilingus. The survey I mentioned found that 81 percent of women respondents orgasmed during oral sex encounters.
The history of oral sex goes back generations, and the experience of our elders has produced a few standby pearls of wisdom on technique: Keep teeth out of the action. Spell the ABCs with your tongue.
Provided, of course, that you can find the clitoris. In spite of this long, nearly universal history, the actual location of the clitoris seems to require discovery every several years. See Men's Health circa 2010: "Q&A: Help Me Find the Clitoris!"
And of course, Cosmopolitan has made a veritable industry of dispensing tips on seduction and sex of all kinds, including oral. Here are some memorable ones:
"Chew a small piece of mango... then take him in your mouth. You can use whatever fruit you have, just don't try anything too acidic, as it can burn him."
"As you move your mouth up and down his shaft, rotate your hand in a corkscrew motion while spiraling your tongue in the opposite direction."
"Very softly bite the skin of his scrotum."
"Sprinkle a little pepper under his nose right before he climaxes. Sneezing can feel similar to an orgasm and amplify the feel-good effects."
To each his own in the pursuit of pleasure, I guess.
So, do people really do these things? How are our neighbors going down?
To help answer these questions, I invite you to complete the Great Charlotte Oral Sex Survey of 2017.
The survey includes questions about your first time performing or receiving oral sex, whether you have any crazy cunnilingus or fellatio stories, and your best tips. It's completely anonymous (duh), and I'll explore the findings in an upcoming column. This will not be scientific — I aspire to about the same polling rigor and accuracy on display in the 2016 presidential election.
Speaking of politics, it turns out that our primate cousins the bonobos are quite the nymphos. They prefer to ease social situations and solve problems by having sex instead of using violence. They're the only other primate that French kisses. And, like our ancestors and our ancestors before that, they like getting good head.